It's hard for 10-year-old Jayden Fontenot to understand the enormity of his actions the day his mom went into labor early.
He was just doing what his mom told him when she went into premature labor and was bleeding profusely.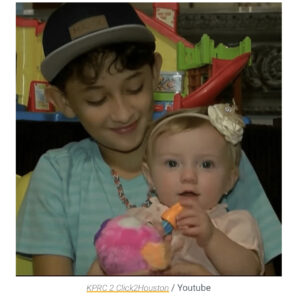 On a Friday morning in 2018, the pregnant Ashly Moreau woke up and went to the bathroom.
Everything felt normal as she was at just 34 weeks, but when she looked down, she noticed two things that shocked her. First, Ashly could tell that water had just broken. And as if that wasn't enough, she could see her two purple feet hanging out.
Ashly Moreau's baby was in breech, her husband had left for work and his grandmother, who lived nearby, had just had back surgery and couldn't walk. She called 911 while Jayden remained calm and did everything his mother told him.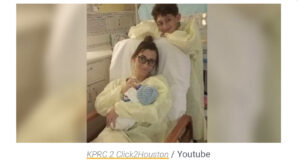 "When he got to the bathroom, he just took a deep breath and said, 'ok, Mom, just tell me what I need to do,'" Ashly said.
This remarkable 10-year-old from Sulphur, Louisiana managed to turn the baby around and help deliver him on the bathroom floor of their home in Sulphur.
But when his baby brother finally came out, he wasn't breathing.
"It didn't look like he was breathing at all, his feet were purple," Ashley told KPRC News 2.
The 36-year-old mom-of-two, who was bleeding out, told Jayden that he would have to deliver his brother quickly as the infant couldn't breathe.
Jayden replied: "Tell me what I need to do and I'll do it,"' as per Today.
Jayden then ran to the kitchen and grabbed a nasal aspirator, usually for his sister, and saved his brother's life.
Her baby boy started breathing just as an ambulance arrived and the mother and baby recovered well after their ordeal.
"I was crying, but I just tried to stay calm and collected," Ashly said. "Jayden was so calm that it made me more calm. I could see he was scared, but he knew he had to do it."
Of course, his mom was very proud of her young son, and Ashly's husband, Kersey Richard, called the boy "brave" and said he did something that didn't get done often.
"Every time I think about it, I just cry," Ashly said. "I don't think Jayden understands what he's done and how big it is."
According to media reports, doctors said Jayden saved his baby brother and his mother. Ashly would have bled out during delivery if the young boy wasn't there.
Later, Jayden was honored at his school by the mayor and first responders from Sulphur for his bravery. Kids are so much more than we give them credit us being amazed by this proves that. They are so smart and know more than we think!
What an unbelievable boy Jayden is; he'll always share a special bond with the brother he delivered and saved. Angels come in all shapes and sizes – that young boy right there is an angel!
Please share to pay tribute to Jayden's bravery.