Prince Harry and Meghan Markle have officially left the British royals. However, family will always be family, and the prince has had a good relationships with his siblings and their partners.
Prince Harry's in-law relationship with Kate Middleton is said to be a dynamic one ever since they got introduced to each other in the 2000s.
Now, new information has come to light regarding Harry's special nickname for Kate Middleton – and it's a nickname no one else uses.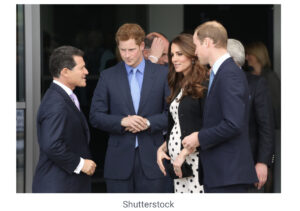 Having been born into the British Royal family, Prince Harry has been in the media spotlight his entire life. Not only because he's a prince but also because the tragic passing of his mother, the late Princess Diana, made headlines around the world via the paparazzi press.
In short, Harry has been the focus of the media's attention since birth, from his partying teenage years to his career in the military. He's also responsible for heartwarming charity work all over the world.
Harry's childhood was marred by immense tragedy after his mother, Princess Diana, passed away in a car crash in Paris in 1997. Paparazzi were hounding the car that she had been in before it crashed at high speed.
Diana was only 36 years of age at the time. Harry was just 12, and it changed his life forever. The images of him and his brother William walking behind their mother's hearse before the service at Westminster Abbey were genuinely heartbreaking.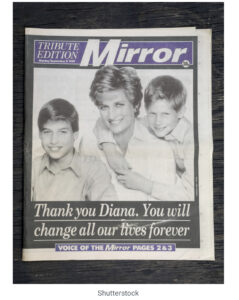 "I can safely say that losing my mum at the age of 12, and therefore shutting down all of my emotions for the last 20 years, has had a quite serious effect on not only my personal life but my work as well," Harry told the Daily Telegraph.
"I have probably been very close to a complete breakdown on numerous occasions when all sorts of grief and all sorts of lies and misconceptions and everything are coming to you from every angle."
First meeting
Harry didn't know then that his brother's future wife would fill a hole in his life after Diana's tragic passing.
Kate Middleton and Prince Harry first met and got introduced in 2003 at Highgrove. The Duke of Sussex was around when his brother, Prince William, invited Kate Middleton to meet his father at Prince Charles's family house.
"I actually went bright red when I met [him] and scuttled off feeling very shy about meeting [him]," Kate admitted, adding, "William wasn't there for quite a bit of the time initially, he wasn't there from Fresher's Week, so it did take a bit of time for us to get to know each other, but we did become very close friends from quite early on."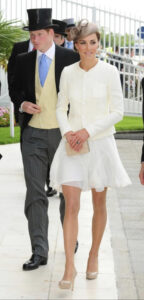 According to reports, Harry got very excited when he saw his brother's future fiancée. Author Christopher Andersen, who has written the book "Brothers and Wives: Inside the Private Lives of William, Kate, Harry, and Meghan," claims that Harry was very impressed when Kate entered the room.
"When Will's girl looked away for a moment, Harry dropped his jaw and mouthed the words: 'Oh my God, she is gorgeous!'"
Prince Harry and Kate Middleton got along from the start. A University friend of Prince William and Kate, Jules Knight, said:
"Kate and Harry got on like they'd known each other forever."
Prince William and Kate Middleton met at St Andrew's University, Scotland's first university founded 600 years ago, and lived in the same dormitory sharing many classes together. After that first meeting with Harry in 2003, Kate urged him to visit St. Andrews and spend weekends with the couple.
Kate's mom, Carole Middleton, also wanted her daughter to build a solid and lasting relationship with Harry. Kate listened to her mom, and according to author Christopher Andersen, Kate "nursed a tender affection" for Prince Harry because he was so young and vulnerable when his mother died.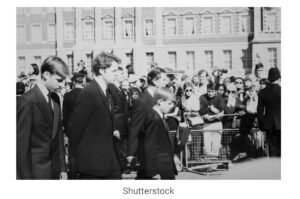 Many of Kate's classmates had pictures of Prince William hanging on their walls – but when Diana died, and photographs of Harry were broadcasted worldwide, more girls started emphasizing the younger prince.
"Poor Harry, poor Harry,' when we watched him walking behind his mom's coffin. He was the one your heart went out to, even more than William," Kate reportedly said at the time.
While William has always been the more serious type, Kate and Harry found each other on another level. According to friend Jules Knight, Harry and Kate shared a playful bond.
"They were always full of fun when they were together. They were joking around all the time – always trying to find ways to make each other laugh," said Knight.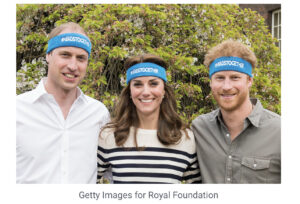 Harry is also said to have compared Kate to the big sister he never had and that she has been like a mother figure to him from time to time. According to a royal insider, Kate has always appreciated that Harry is quite different from her husband.
"Harry appeals to her sillier side because he is carefree, footloose, and loves banter. He finds things funny about people and says so," the insider said.
As with all friendships, it can be strengthened if you go through something complicated or intricate. When Prince William and Kate took a three-year relationship break in 2007, Harry was Kate's biggest ally.
Before William fell in love with Kate at St.Andrews, William was being linked to several women, and one of them was Becca Craig. As an 18-year-old, William took a gap year and traveled to Kenya, where he met Becca.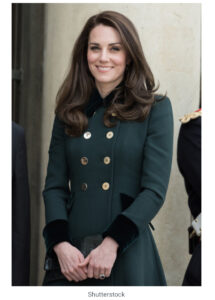 After the breakup with Kate, William continued to keep in touch with Becca Craig, who reportedly had a 'pretend engagement' once.
William kept in close contact with his ex-girlfriend and wanted to spend his summer vacation with Becca in Kenya. However, when he insisted on going there a third time, Kate put her foot down.
And finally, both Harry and Prince Charles intervened, according to the book "Brothers and Wives." Harry pointed out that William could hurt Kate and Prince Charles more or less asked William to stop seeing Becca Craig, partly for Kate's sake, and not give Becca any false expectations.
Kate appreciated Harry's support, and as we all know, it ended happily for Kate and William – who tied the knot in 2011.
Kate Middleton nickname
One might think the Royal Family would be above nicknames, but it appears they most definitely aren't. Recently, Harry's nickname for Kate come to light.
Prince William reportedly called The Queen "Gary" when he was younger, since he was unable to pronounce 'Granny'. Prince Philip, meanwhile, was said to have called Queen Elizabeth "Cabbage" and "Sausage", according to The Mirror.
Now, OK! Magazine has revealed the special nickname Prince Harry has for Catherine "Kate" Middleton, the wife of his brother William.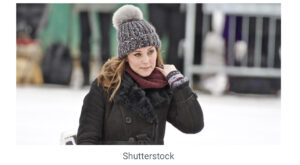 According to the news outlet, Harry usually calls Kate Middleton "Cath." His sister-in-law has been known as "Kate" to the rest of the world since deciding to go by that moniker during her university studies.
In 2017, Middleton and William spoke on BBC Radio 1 about nicknames. The radio host had heard that Harry referred to the couple as "William and Cath."
"Is this a thing just in the family?" the host asked Kate.
"Yeah, I'm not sure," she answered. "I'm not that familiar with it I have to say, but I'll answer to most things to be honest."
Meghan and Middleton
Prince Harry and Kate Middleton's friendship was perhaps strongest before Harry fell in love with Meghan Markle, a former actress on the television series Suits.
In July of 2016, a friend set up a blind date between Meghan and Harry, and it was a smash-hit.
"I was beautifully surprised when I walked into that room and saw her," Harry told Vogue. "I was like, I'm really going to have to up my game here."
Before he met Meghan, Kate was the woman Harry could turn to. Harry used to visit Kate's and William's apartment in Kensington Palace, where she was happy to cook Harry's favorite dish, roasted chicken.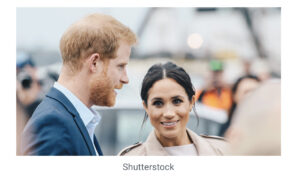 Meghan Markle and Prince Harry's time together has been full of love, and the couple has been married for four years now. Speaking with Oprah Winfrey in 2021, Harry also said that his family liked Meghan from the very start. It seemed like everything was going "according to plan."
"You know, my father, my brother, Kate and all the rest of the family, they were really welcoming," he said.
For the royal family, the news that Harry and Meghan were getting married left them with all smiles on their faces. The wedding took place on May 19, 2018, and the service was held at St George's Chapel, Windsor Castle. However, due to a very complex relationship, her father wasn't present.
"William and I are absolutely thrilled," Kate Middleton told the Associated Press when Harry and Meghan first announced the wedding plans.
"It's such exciting news. It's a really happy time for any couple, and we wish them all the best and hope they enjoy this happy moment."
Kate was keen on maintaining a healthy relationship with Harry and Meghan, even after their union. Speaking to Hello! in 2019, author Carolyn Durand said that they were very close around the time Meghan and Prince Harry's son Archie was born.
"Kate was a great source of support to Meghan in the days leading up to Archie's birth and, despite reports of a rift, they are family and have a really lovely friendship," Durand said.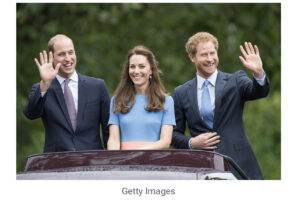 As the two lovebirds took the world by storm, Harry and Meghan became somewhat of royal favorites among the public. But things changed rapidly when Harry and Meghan left the royal family in 2020 and accused the royal family of several serious things in that famous Oprah interview.
Since 2020, Meghan and Harry are no longer 'senior' members of the British royal family and the couple decided to step down from their royal duties.
Before their departure, Meghan and Prince Harry were limited in what they could say publicly. However, now that they won't be returning to the royal fold, they can speak freely in interviews.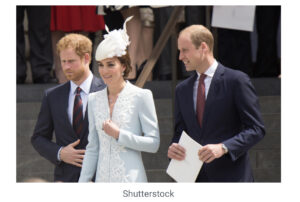 "That was relayed to me from Harry. Those were conversations that family had with him," Meghan said. She declined to reveal who was involved in those conversations, saying, "that would be very damaging to them."
The couple sat down for two hours with Oprah Winfrey in their first big primetime interview since splitting from the royal family. The result was a shocking interview, where Meghan and Harry spoke straight from their hearts on what had actually happened.
Meghan could be seen crying at several points in the interview, including when she discussed how Buckingham Palace had brushed aside her thoughts on not wanting to live anymore. She also said that family members had "concerns over how dark his skin might be when he was born", in reference to their then-unborn son, Archie. It was truly one of the most stunning revelations from the interview.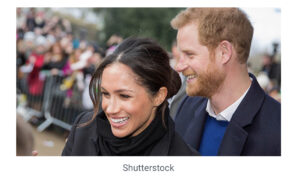 The couple's jaw-dropping interview forced the Royal family to hold crisis talks and William even broke protocol by speaking to reporters outside a school in London insisting his family was not racist.
"The whole family is saddened to learn the full extent of how challenging the last few years have been for Harry and Meghan," the Queen said.
"The issues raised, particularly that of race, are concerning. While some recollections may vary, they are taken very seriously and will be addressed by the family privately."
"Harry, Meghan and Archie will always be much loved family members."
There can be no doubting that the Oprah interview sent the British Royal Family into shock. Harry's brother and sister-in-law, Prince William and Kate Middleton, were said to have taken it particularly hard.
A US Weekly source said that the couple were in "total shock after hearing what Meghan and Harry said". Another source said that Kate would "never forgive Meghan for throwing shade at her."
"The interview was the final nail, it's over. Meghan burned all of her bridges and Kate has no interest in speaking to her," the source told US Weekly.
Even though Kate and Meghan was said to have had a good relationship at first, this didn't make it any better.
First meeting after Oprah interview
In April 2021, more than 13 million people watched the funeral of the Queen's husband Prince Philip. Prince Harry flew from his home in California to the U.K. to be with his family after news of the passing of his grandfather broke.
This was also the first time that Harry met Kate and William after that bombshell interview with Oprah. All eyes were on the two brothers as their body language and conversation was scrutinized in an attempt to gauge the mood between the two. We can only imagine the tension between them as they met for the first time since the interview during such a sad occasion.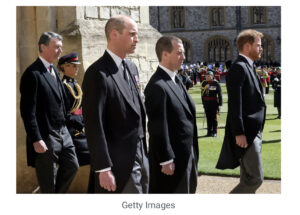 Harry, William and Kate were seen walking and chatting together for a few minutes and royal sources said the brothers had been told to 'bury the hatchet' for the day – but the two seemed unable to make eye contact.
But it was in fact Prince William's wife Catherine who broke the ice and struck up a conversation with Harry after the funeral. As they were both wearing masks it was impossible to even guess what she said to her brother-in-law but it seemed to diffuse a seemingly uncomfortable situation.
Kate is known for being a peacemaker between the two brothers in the past and the three were at one time inseparable.
As her husband William chatted to the Dean of Westminster outside the chapel, she engaged Harry in conversation, as reported by Vanity Fair.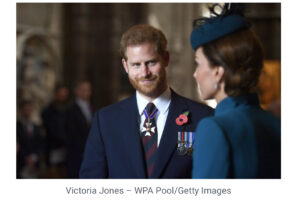 Such a shame that there seems to be a lot of tension between Harry and the rest of the Royal family. It looks like Harry and Kate had a warm and beautiful relationship, hope one day they can get it back and with William too – brothers should be close!