They might not give out the best advice…but they sure are hilarious!
There's nothing better than getting together with your best friends and talking about both nothing and everything all at once.
But what happens when you've already told all your stories countless times, and your friends don't want to hear them anymore?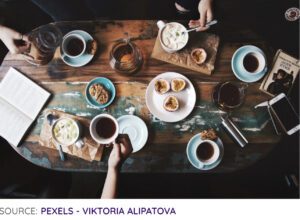 Well, for one group of old friends, they had definitely shared all their stories with each other many times over.
The group was sitting at their favorite gathering spot, a coffee shop located in their town of Salt Lake City in Utah when one of the members had a brilliant idea.
69-year-old Tony Caputo noticed that there was a farmers market across the street and that there were hundreds of people milling about.
He voiced the idea of perhaps renting a booth at the market where he and his friends could give out life advice.
The rest of the group supported the idea, and the next weekend they were all sitting around a table with a large sign overhead that read, "Old Coots Giving Bad Advice", "It's probably bad advice, but it's free".
They waited for someone to approach them and ask them whatever questions they might have, anything questions except for politics or religion were accepted.
What started out as a few people approaching the 'Old Coots' soon turned into a long lineup of people waiting.
Questions ranged anywhere from advice on school and work, to relationships and love, and even what cell phone or internet plans to get.
The 'Old Coots' take each question seriously and put real thought into their answers.
"We always listen carefully," states Tony, "and we don't give gratuitous advice."
The group, which started out as 4 or 5 males, soon realized they might not be in the best position to answer some of the questions given by women.
They soon added a few women to the group to even things out more and attract a bigger group of "customers".
Now, the 'Old Coots' table is the most popular destination in the entire farmers market.
People traveled from far away to meet the group and ask for their advice, and soon enough, they started their own Facebook page.
After the success of the market and Facebook, the group even decided to start up their own podcast where people can phone in with their questions.
The group's popularity has continued to grow, and people from all over have left reviews of the advice they received.
"They know everything, simple as that!" said one user.
"These are the wisest old coots you've ever asked advice from." says another.
The popularity of the 'Old Coots' has grown so much that they have even appeared on a few television talk shows, including Good Morning America and the Strahan, Sara, and Keke show.
While we are all living in a crazy time at the moment with the Covid-19 pandemic, it is nice to know there are still a few 'Old Coots' out there looking out for us all.
Please SHARE this with your friends and family.