It is hard for celebrities to do big things in secret. But for years now, America's sweetheart, Sandra Bullock has managed to quietly donate money to different parts of the world and for different causes. Terror attacks, different catastrophic natural disasters, and even the ongoing coronavirus pandemic, Bullock has made sure she is doing her part in generously helping people, without being in the spotlight. "I'm just grateful I can do it. We have to take care of one another," said Bullock, as quoted by E!
Below are some of the kind efforts she has taken to help.
1. 9/11 Attacks
When the devastating terrorist attack took place, Bullock was among several celebrities who stepped forward and she donated $1 million, reported CNN.
2. Tsunami Relief
The Miss Congeniality actress gave another $1 million to the American Red Cross when parts of southern Asia and eastern Africa were in dire need of funds after the deadly earthquake and tsunamis that occurred towards the end of 2004.
"At this critical time, I am grateful to Sandra Bullock for once again demonstrating her leadership, compassion and belief in our global humanitarian mission," said American Red Cross President and Chief Executive Officer Marsha Evans in a statement, as quoted by a 2005 report by AP. "Sandra continues to enable our lifesaving work and is a model for personal generosity."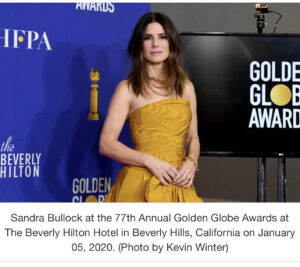 Sandra Bullock at the 77th Annual Golden Globe Awards at The Beverly Hilton Hotel in Beverly Hills, California on January 05, 2020. (Photo by Kevin Winter)
3. Hurricane Katrina
In 2005, the Gulf Coast of the United States was hit by Hurricane Katrina and left behind massive damage. Then, too, Bullock donated $1 million to the Red Cross to help with relief initiatives, according to E!
4. Warren Eason Charter High School
Bullock also took special interest in the Warren Easton Charter High School in New Orleans and has been supporting it since it was damaged by Hurricane Katrina. Since then, she has donated hundreds of thousands of dollars for renovations, new band uniforms, and even a new health clinic. But that's not all. In order to motivate the students to go for higher studies, she also set up a $10,000 college scholarship. When she spoke to People, she revealed that she "felt such a profound need to do something for them."
The principal revealed during a 2010 interview, "She acts as if all 800-plus of these children are her own. She has been our angel. We love her."
5. Earthquake in Japan
The very first big star to donate a massive amount after the catastrophic 9.0 earthquake hit Japan in 2011 was Bullock, offering $1 Million to the American Red Cross' relief efforts, as reported by ABC News.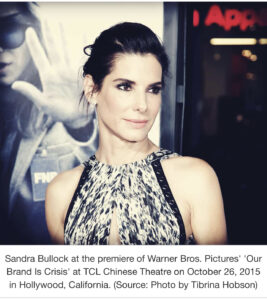 Sandra Bullock at the premiere of Warner Bros. Pictures' 'Our Brand Is Crisis' at TCL Chinese Theatre on October 26, 2015 in Hollywood, California. (Source: Photo by Tibrina Hobson)
6. Haiti Earthquake
After the Haiti earthquate in 2020 ravaged the land and displaced so many, Bullock joined a number of celebrities such as Madonna, Gisele Bundchen, Angelina Jolie and Brad Pitt, and others. Bullock announced at the time that she would be donating $1 million to the victims, according to NBC Bay Area.
7. Hurricane Harvey
Sandra Bullock has donated $1 million to the American Red Cross for Harvey victims. https://t.co/x7XzOLpwSX pic.twitter.com/M8bZxSjeTh

— USA TODAY (@USATODAY) August 30, 2017
Victims of Hurricane Harvey in Texas have also benefitted from Bullock's generosity in 2017 after she donated $1 million dollars to the American Red Cross's relief efforts, according to People. "There are no politics in eight feet of water," the actress Speed actress said about the devastating hurricane. "There are human beings in eight feet of water."
Elizabeth Penniman, Vice President of Communications for American Red Cross national headquarters, told People about her donation, "This is an incredible gift. We're so thankful. It's times like this when we do receive such an incredible amount of support. Especially during times of disaster, people see what's happening in Texas and our hearts all go out to them. Having someone like Sandra Bullock make this kind of commitment, it helps bring people together and open their hearts and be even more generous."
8. California wildfires (2018)
The award-winning actress extended her genorisity to the animals that were affected by the devastating Woolsey Fires in 2018 and to those on the frontline rescuing the animals, according to Metro.
https://www.facebook.com/362051586237/posts/pfbid0WCNL4yYsnhXcFSegmiMtXdkN5wQMXQ5oYxHy6FY8mNEfc52XM5smurBxMHWxb85Ql/?d=n
"The Humane Society of Ventura County was deeply humbled today by a $100,000 donation from Sandra Bullock and family," wrote the charity on Facebook. "Our efforts for rescuing and caring for evacuated animals from the Hill and Woolsey fires had caught her attention and her team reached out to the shelter to show their support. Sandra Bullock and her family have reached out to other nonprofit organizations both during this incident and in the past. However, this time she wanted to contribute to those on the frontline rescuing animals in peril and hope others will choose to do the same."
9. COVID-19
As the pandemic began spreading across parts of the country, Bullock once again tried to help and she, along with her boyfriend and her children, donated masks to LA's health care workers, according to People. Bullock's boyfriend, Bryan Randall said on social media, "Kids wanted to give masks. 6000 of them went to the warriors on the front lines in downtown LA."