Father's Day is a day to show our appreciation for the father figures in our lives who make sacrifices every day so we may live better lives all while loving us unconditionally.
Although it can be nearly impossible to pay them back for a lifetime of love, one family attempted to thank their patriarch for all he's done despite facing his own trials and tribulations.
The following story happened in 2016, but it's no less heartwarming than if it occurred this year.
Harley Harlington was a former Marine, single dad, and survivor. Even though his health wasn't in the best shape, he remained stoic while caring for his children and grandchildren.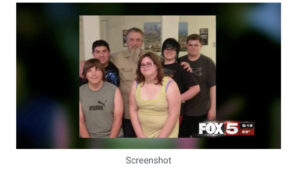 "He's been working [all] his life. He's an ex-marine. He's had a kidney transplant, and it took him forever to get that and [he's] still going strong," his granddaughter Kirsten said.
One day his family wanted to do something special for him, pay him back for all the times he's taken care of everyone else.
"He is a man that provides and gives to so many and never says no to anybody for anything. He'll give the shirt off his back," his daughter Robbin said.
A big surprise
Harley's family decided to surprise him by submitting his story to their local news and having the FOX 5 Surprise Crew knock on his door. When he opened his door, he was greeted by a woman holding a bouquet of flowers, a man with a camera, and his granddaughter.
After they all went inside his home, Harley spoke about his troubles raising his family.
"As well as running a business, at one time I had four jobs. You know, just so I could put food on the table, presents under the Christmas tree."
He explained that despite always being their for his family he never expected anything in return.
"Whatever you can, you do, even if all you have to give is an ear to listen. You do [it] without any expectation of any kind or reward. You do [it] from the heart."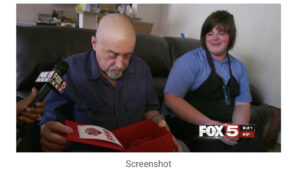 But his family couldn't let him go on much longer without thanking him for all the sacrifices he made.
Jose Gutierrez, who called Harley and "exceptional father," from a local auto body shop offered to repair Harley's vehicle's air conditioner and heater.
That wasn't all.
The Surprise Crew handed Harley a box containing $1,500 in cash. Harley couldn't barely find words to express his gratitude.
"Utterly speechless. I've never had anything like this in my life."
Robbin and Kirsten wanted to make sure their father and grandfather had a Father's Day to remember, and he sure did!
"If you have nothing else in life, you have family. You always have family," he said.
I would love to surprise my father like this. He's done so much for my family.
Please share!