If you're anything like me, you'll look back on your childhood as a time of stability, love and safety.
My parents didn't have a lot of money, true, but they always sought to give me and my siblings the best they could, and ensured that none of us ever felt anything less than loved in our environment.
Sadly, of course, the bitter truth of things is that not every child gets to experience such security and warmth. Some, through no fault of their own, are born into circumstances that mean they don't have stable parents.
Some bounce around from foster home to foster home, never truly finding that one place where they belong, while others end up with parents who mistreat, neglect or abuse them.
HAPPENING NOW: Today marks a big day for Jessica Benzakein. She's been a foster parent for years, opening her heart and home to foster kids in need.

Today, she finally gets to adopt these SIX kids she's had for years.

Carter, 14
Sidney, 13
Buddy, 8
T.J., 4
Kendrick, 6
Will, 17 pic.twitter.com/iEVv7MIvhE

— Tony Atkins (@TonyAtkinsTV) January 3, 2020
When Jessica Benzakein was 12 years old, her mother lost custody of her, meaning Jessica was forced into the US foster care system.
Given her age, it was a rather tricky spot to be in: she was too old for most prospective couples to want to adopt her, but too young to independently move out on her own.
Needless to say, the six years before she turned 18 involved a lot of moving around, a lot of being uprooted and passed around from foster home to foster home.
Sadly, Jessica never found a place where she felt completely at home, and as a result carried with her a sense of loneliness.
Which is why, as per Today, she felt a responsibility to foster children herself when she got older.
Five years ago, Jessica took in two sets of brothers – six boys total – who were in desperate need of a loving home.
Jessica already had two biological kids, Eli, 14, and Brenna, 9, with her ex-husband, but she didn't hesitate to say yes to Will, 19, Carter, 14, Sidney, 13, and Buddy, 8, as well as Kendrich, 6, and T.J., 4.
"Everybody tells me how lucky these kids are and what a good thing I did," Jessica explained to Today.
"But … I'm going to cry … they grounded me. I went through my 20s thinking I didn't really need a family. But I did. They give me purpose."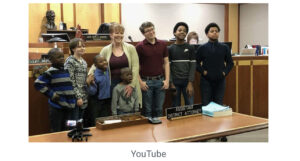 Last year, Jessica's story took an even brighter turn, when a Milwaukee judge ruled that she could officially become their adoptive mother.
"Do you think it's in their best interest that you be their mom?" Hon. Mark A. Sanders asked her.
"I think we are pretty good together," she said. "I don't know if I'm the best mom, but I'm their best mom. I love 'em."
As it happens, the six boys were inclined to agree.
Speaking to WISN, Sidney said: "I feel like this is the best choice that I could have."
Carter, meanwhile, added: "The whole adoption thing doesn't really matter, because we consider each other as a family no matter what."
Jessica knows first hand that raising any amount of kids is no simple walk in the park, let alone taking on the responsibility of six boys. She also knows, however, that the struggle is well worth it when considered that six young souls now have a loving home and a forever family.
Wow, I'm just blown away by Jessica's generosity and willingness to help.
Do you think people like Jessica should be elevated and praised more in society? I think they should!
Please, share this article on Facebook to pay your respects to this wonderful woman and what she's doing.