There are few Hollywood celebrities working today as iconic as Sylvester Stallone, 75. Best known for characters like Rocky Balboa and John Rambo, he's been an action movie icon for decades.
While he's a famous tough guy on screen, in real life he's a devoted family man. And this week, he celebrated his anniversary to his wife, former model Jennifer Flavin.
In honor of their anniversary, the Hollywood couple both posted heartwarming tributes to each other on social media.
May 17th marked the couple's 24th wedding anniversary. They tied the knot in 1997.
Stallone posted a photo of himself and his wife on Instagram. "Time is flying but I have a blessed life Thanks to my wife and Family," the 74-year-old star wrote.
Jennifer Flavin, 53, also shared a tribute to her famous husband on her own social media, including a photo of the couple on their wedding day.
"Happy 24 year wedding anniversary to the love of my life!" Flavin wrote.
Stallone & Flavin have three daughters together: Sophia, Sistine, and Scarlet.
While their marriage is going strong, Flavin is actually Stallone's third wife. His first marriage was to Sasha Czack in 1974, which lasted until 1985. The couple had two sons, Sage and Seargeoh.
Stallone was also married to actress Brigitte Nielsen for two years, in a highly-publicized Hollywood marriage and divorce.
His marriage to Flavin almost didn't happen: after dating for six years, Stallone briefly broke up their relationship after his affair with another woman came to light. But the couple patched things up, had their first kid and were married in 1997.
It turned out the third time was the charm for Stallone, and his marriage to Flavin is now one of Hollywood's most lasting pairings.
For Stallone, their romance has been life-changing. "I've never had more fun," he said in 2010, according to The Sun. "I learnt that from my wife… It took me 19 years to realize she's always right."
"I realized that women have a knack, at least Jennifer, for making incredibly erudite, wise, smart decisions. I always leap without looking."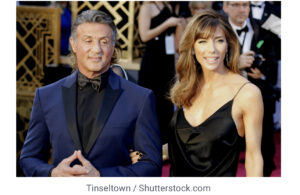 Today, Flavin is a businesswoman, the co-owner of a skin care company. And Stallone continues to have a thriving Hollywood career. He successfully reprised his most famous role as Rocky Balboa in the Creed films, receiving an Oscar nomination.
He is also finishing up a new director's cut of Rocky IV, and will co-star as King Shark in the superhero film The Suicide Squad this summer.
Congrats to Sylvester Stallone and Jennifer Flavin on 24 years of marriage!
Share this story if you love Sylvester Stallone!