The Florida teenager who suffered a serious leg injury when a shark attacked her while she searched for scallops near Tallahassee, Florida is on the road to recovery after having part of her leg amputated.
The 17-year-old's family recently shared a video of her taking her first steps post-op and just six days after the shark attack.
Addison Bethea, 17, was in the water off Keaton Beach with her family when a 9-foot shark wrapped its jaws around her leg. She poked the shark in its eyes and punched it until her brother, a firefighter, came to her rescue.
He was able to separate his sister from the shark and pull his sister onto a stranger's boat. She was brought to shore and airlifted to a hospital in Tallahassee.
Both her family and Tallahassee Memorial HealthCare, where she is being cared for, have been sharing updates on her condition.
Ever since Addison arrived at TMH, doctors have been working to "save as much of her leg as possible and to optimize her long-term mobility," according to a statement from the hospital.
Her prior surgeries led to the success of Tuesday's surgery, where surgeons amputated her right leg just above the knee.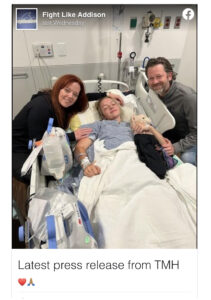 Following the surgery, Addison's father Shane, shared on a GoFundMe that his daughter was in "extreme pain from the leg and was complaining of the bandage feeling too tight."
He explained that on Sunday morning she had surgery to evaluate a hematoma that she had developed. The wound was left open so it could continue to drain with the intention of her undergoing another surgery on Tuesday.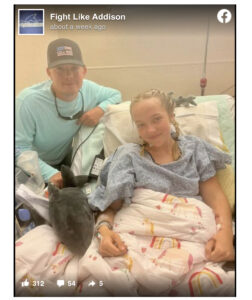 "Please continue to keep her in your prayers for God's loving hands to reach down upon her. And please keep me and her mama in those prayers as well," he wrote.
While Addison still has a long road to recovery ahead of her, the teen's family says she's in good spirits.
Let's all say a prayer for Addison as she continues to heal.