The Carter Center has shared a new update regarding the health of Rosalyn Carter, 96, the wife of former President of the United States Jimmy Carter, CNN reports.
"Former First Lady Rosalynn Carter has entered hospice care at home. She and President Carter are spending time with each other and their family. The Carter family continues to ask for privacy and remains grateful for the outpouring of love and support," the statement shared on behalf of Jason Carter, the Carters' grandson, read.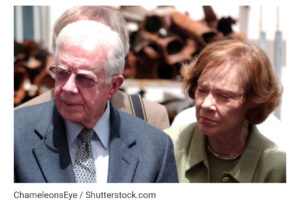 The announcement comes months after Jimmy Carter, 99, also entered into hospice.
Six months ago, Rosalynn was diagnosed with dementia. However, not much more information has been shared with the public about her health.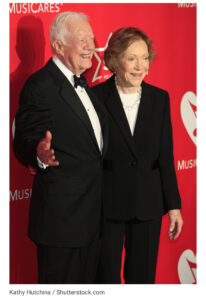 Jimmy Carter and His Wife, Rosalynn Carter, Make Surprise Appearance at Plains Peanut Festival Ahead of His 99th Birthday
The past week has been a busy one for Jimmy Carter and his wife, Rosalynn Carter. The beloved former President is celebrating his 99th birthday on Sunday (October 1) as he continues to outlive any President that came before him – the next closest is George H.W. Bush, who was 94 when he died.
Carter was born in 1924 and raised in Plains, Georgia – a small town that was home to roughly 480 people. Today, the population is just under 600 people – two of which are Jimmy and his wife (who was also born and raised in Plains). The former President and First Lady are treated like royalty in Plains.
HAPPY BIRTHDAY: Jimmy Carter, the oldest living former president in U.S. history, turns 99 today. https://t.co/uLThBshvlM pic.twitter.com/Jq8pfJYk5B

— ABC News (@ABC) October 1, 2023
They live in a home they had built in 1961 and spend most of their time sitting with one another and holding each other's hands. Jimmy has decided to 'spend his remaining time at home with his family' and is now receiving hospice care at his home, while his wife revealed her dementia diagnosis in May 2023.
While the couple plans on having a relaxing day together at their home in Plains, Georgia, they decided to shock us all with a surprise appearance last week. They aren't normally seen in public because they spend most of their time in their home, but they recently took a car ride over to the Plains Peanut Festival.
Wow this is a wonderful surprise and fantastic news.

Former President Jimmy Carter and Rosalynn Carter made an appearance at the Plains Peanut Festival in Georgia today — just days before his 99th birthday.

Seen here riding in a black SUV.pic.twitter.com/XsOb6Taskb

— Christopher Webb (@cwebbonline) September 23, 2023
The popular festival – which took place on September 23 – already had a lot of people in attendance, but their day got a lot brighter when they saw a black Chevy Suburban driven by a Secret Service agent pull up to the parade. For this particular town, that could only mean one thing – Jimmy Carter has arrived!
The former President was seated in the backseat alongside his wife – they were holding hands, as usual. The crowd started with a large gasp as they put 'two and two' together, but those gasps quickly turned to cheers with many people in attendance understanding this could be their last glimpse of the ex-President.
Today Jimmy Carter turns 99, living longer than any other former president. He witnessed the election of seven successors and outlived two.

His surprise visit at the Plains Peanut Festival was his first public appearance since entering hospice care. https://t.co/avKxgutoF5 pic.twitter.com/8ztkyoX0C2

— The Washington Post (@washingtonpost) October 1, 2023
One festival-goer said she was 'overwhelmed' when his vehicle turned the corner – a sentiment shared by many in attendance. The town is mostly Republican and Carter is a devoted Democrat, but both sides have learned to set aside their differences and work together to make a difference in their community.
Jimmy Carter Continues to Defy Father Time
Jimmy Carter isn't supposed to be standing here today. This is a man who saw his melanoma spread to his brain and liver in 2015 – which usually ends in death. Even in February 2023, doctors believed he wouldn't live to see another week. Yet, here we are nearly six months later and he's still living and loving.
Jimmy Carter turns 99 today pic.twitter.com/bZPg8rHJEc

— Visegrád 24 (@visegrad24) October 1, 2023
According to The Washington Post, Jimmy Carter still keeps an eye on the upcoming election (2024) and is still keeping up with his favorite MLB team – the Atlanta Braves, who are the best team in baseball this year. He still enjoys a good episode of Law and Order and he still loves to talk about current events.
Jimmy Carter turns 99 today, the oldest US president to ever live, and whose legacy has improved with his decades out of office.#JimmyCarter99 pic.twitter.com/LEQhN4deIi

— Channel 4 News (@Channel4News) October 1, 2023
"There is just something inside him — he goes to enormous lengths to be there in person," his niece, Kim Fuller, said – adding that he will drop what he's doing if a friend or family member is in need. Everyone in his family – and Plains community, in general – has nothing but good things to say about the 99-year-old.