Those who risk their lives to serve their country should be rewarded for the sacrifices they make.
Sadly there are too many veterans struggling when they return. Unless a soldier has served for a certain amount of time, the benefits they receive after they return are often not enough to live on.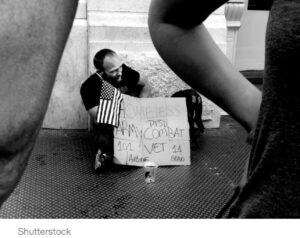 A Fox 5 Surprise Squad was paying for people's groceries in a store in Las Vegas when they were introduced to a veteran who could barely afford the dish soap and candy he was lining up to buy.
Even though he couldn't afford the groceries he needed each week, he had still driven his friend Stephanie, a disabled veteran, to the store.
Stephanie, who relied on her wheelchair to get around, told the news reporter that she was buying food for herself and her dogs but admitted she was down to her last $50 and didn't know what she would do after that.
Dave Hall, the reporter who headed the Surprise Squad, was happy to tell her that he and his team had her groceries covered and Stephanie was thrilled to receive the generous offer.
But it was then that Dave noticed the man standing behind her and Stephanie introduced him to her brother.
The man, named Larry Robeson, was another veteran who was a friend of Stephanie's husband after the two met at the same club.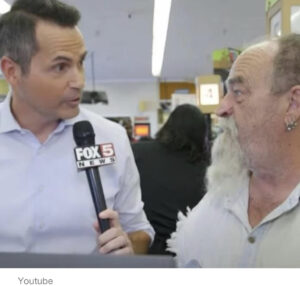 Larry had started the club Bones for Blankets 16 years ago, which focused on donating blankets to homeless veterans.
He started the club after his three brothers froze to death and he wanted to make sure other homeless people didn't have to experience the same tragedy of sleeping outside in the cold.
The big-hearted veteran said Stephanie's husband was a truck driver who was away a lot, so he wanted to do all he could to help Stephanie.
"No vet should be going through what she's going through," he said.
Dave refused to let the kind vet leave the store without any real groceries.
"You served us," he told the veteran. "It's our turn to serve you now."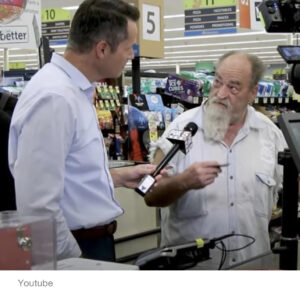 Dave walked around the store with Larry allowing him to put whatever he needed in his cart and share his story.
"This is just like overwhelming, I've been taking care of myself since I was 13," Larry said.
As the cashier gave him his total of $278, and the squad covered it, he said he'd never had a grocery bill that high before as he wiped his eyes and said thank you.
Employees of the local Albertsons store watched as the crew helped a number of other people buy their groceries and one cashier got emotional, she was so happy to see so many random acts of kindness.
Larry deserves all the help he can get, struggling with himself yet still finding the resources to donate blankets to homeless veterans. He has a heart of gold.
Help us honor this big-hearted man and thank him for his service by sharing this story.