Amy Schumer has been working long and hard to reach fame in Hollywood. The New York native's family created an excellent foundation for her success. However, things quickly switched as her father went bankrupt when Amy was only nine years old.
Nevertheless, the 40-year-old stand-up comedian pursued her career in entertainment, and as of today, Amy Schumer is quite the success story. Not only has she been in many successful projects, earning herself awards and plenty of money, but on a personal level, she's married as well as have children.
So how did Amy get to the point where she is today? And who is her husband? Here is all you need to know about Amy Schumer!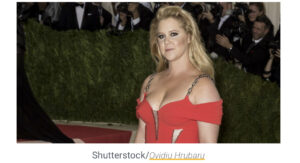 On June 1, 1981, Amy Schumer was born in New York City. She grew up on the Upper East Side on Manhattan, and at first, her family was very wealthy. Amy's father owned a baby furniture company. However, when she turned 9, everything changed.
Amy Schumer – comedian, writer & actress
Her father, Gordon, went bankrupt, and a few years later, he was diagnosed with MS. Amy's father had to be placed in permanent hospitalization. Later on, she'd use her father as an inspiration for the film Trainwreck.
Amy and her mother, Sandra – who divorced her father after he went bankrupt – moved to Long Island instead. She had worshipped her mother all her life, but at 13, everything changed.
It turned out that she had left Schumer's father left to be with a family friend named Lou.
"One day after school, I came home and saw my mother slumped on the couch. She'd clearly been crying hard," Amy wrote in her book The Girl with the Lower Back Tattoo. "'I am leaving your father. Lou and I have fallen in love with each other.' I was a child, new to my teens, and she was treating me like a seasoned psychiatrist."
Amy Schumer's relationship with Sandra was ruined, and years later, she'd explain how her mother relied on the belief that everything was "okay," despite all things that happened. However, when Amy turned 30, she confronted her mother about the affair with their family friend all those years ago, in what she called "manipulating me into supporting her through all this." Their once-healthy relationship had turned sour.
"We are kind to one another, but I keep my boundaries clear." Calling family relationships "a constant negotiation," she adds, "I have never given up on her. I can't, and I never will."
Was voted "teacher's worst nightmare"
Even though her move to Long Island with her mother was a significant change for Schumer, it actually in some way helped her to form a provocative sense of humor. She attended the South Side High School in Rockville Centre, New York.
According to Business Insider, Amy was voted both "class clown" and "teacher's worst nightmare" before graduating in 1999. At that point, she had already found her passion in comedy and acting.
"I was a funny kid. It's funny because now, when I go to headline, I think back to how I used to make my parents and my friends and my siblings sit there and listen to me tell stories and try to make them laugh. It's ridiculously clear – for as long as I can remember, I wanted this specific type of performing," Amy Schumer told Laughspin.
In 2003, she graduated from Towson University in Maryland with a degree in theater and moved back to New York City to pursue her career as a stand-up comedian.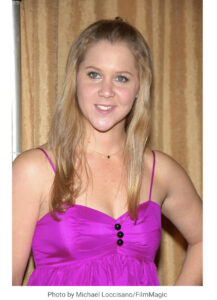 "After college, I found that you don't get to perform as often as you do in college," she recalled. "I found a group of people backstage, or god knows where – an improv group, of which the leader was like this total schizophrenic – and one of the girls in my improv troupe was a comic. She did stand-up. She was like 45 years old at the time, and I went and saw her.
Amy Schumer – comedy career
"I was like, 'Oh, this is really appealing.' I had seen a lot of stand-up before, and I'd never really thought about the possibility of doing it, but then when I saw this girl from my improv troupe doing it and getting some success, I was like, 'I can do this.' I tried it within a week or two, and I liked it right away."
Amy Schumer soon rose to fame and made her television debut on Comedy Central's Live At Gotham.
Schumer wasn't like everybody else when it came to stand-up comedy. She was speaking of things especially women in the business didn't talk about, including raw angles of sex, dating, and drinking.
In 2007, Schumer appeared on the fifth season of Last Comic Standing, where she ended up in 4th place. It gave her even more fame status, and the year after, she appeared on the parody reality television show Reality Bites Back.
Even though she was on her way to the top, it wasn't like the gigs and roles in television shows, or other projects were handed to her. Instead, Schumer continued to work her material through the comedy club circuit, doing her own shows and headlining for other comedians.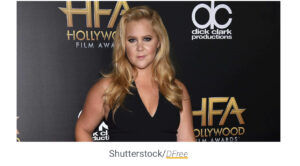 In 2010, Amy Schumer finally got her big breakthrough for the broader audience. She earned her half-hour special with Comedy Central Presents. She continued with starring on the roast of Charlie Sheen in 2011, and the year after, she did the same to Roseanne Barr on the Comedy Central Roast special.
Success on 'Comedy Central'
Even though she's always taken her own path, Schumer also clearly wants to have a bigger purpose with her comedy and not just tell a funny joke. Like many other comedians, she works in a political climate, and to a certain extent, she feels like she has a responsibility to make it matter.
"I just want to make people laugh, but I'm also in a place where I want to make change," she told InStyle. "A joke doesn't have to be something that's going to make people think, but if it can, that's better."
"A big part of becoming a funny person was a major defense mechanism. Onstage, especially as a woman, I've had to be really tough," she further told Time. "The second you show a crack, the audience can literally leave."
The same year as the Barr roast, it was clear that she was perfect for Comedy Central, who gave her more, bigger gigs. She did an hour-long special named Mostly Sex Stuff, and in 2013, the network premiered the sketch comedy show, Inside Amy Schumer. The show became a huge success, and in 2015, she won a Primetime Emmy for the show in the category Outstanding Variety Sketch Series.
Even though comedy was her main thing, Amy Schumer moved into writing other things than just jokes.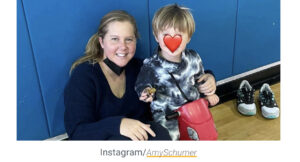 After doing smaller writing jobs for television specials, she wrote her first film, Trainwreck. As mentioned before, it was pretty autobiographical. Schumer stars as a writer named Amy – who's struggling in her personal life. Colin Quinn starred as her onscreen father who had been diagnosed with MS when she was only 12.
Amy Schumer – net worth
"Some days he's really good, and he's with it, and we're joking around," Schumer told Barbara Walters on ABC's Barbara Walters Presents: The 10 Most Fascinating People of 2015. "And some days I go to visit my dad, and it's so painful. I can't believe it."
"In terms of my dad being sick, it was just confusing to me, especially the way MS works," she added. "He was in physical pain. That's when I kind of took the lead and took care of everybody in my family. I would keep them – I would keep everybody laughing."
Amy Schumer continued her way up the celebrity ladder. In 2017, she did a television special named Amy Schumer: The Leather Special, and two years later, she was back with another one, Amy Schumer: Growing. In 2017, she also starred in the comedy film Snatched, alongside Goldie Gawn.
Today, Schumer's writing a television series named Life & Beth, where she stars alongside Michael Cera. According to IMDB, the show is in post-production, ready to be released later in 2022.
According to Celebrity Net Worth, Amy Schumer has a net worth of $25 million, and she has decided to spend it in the best way possible.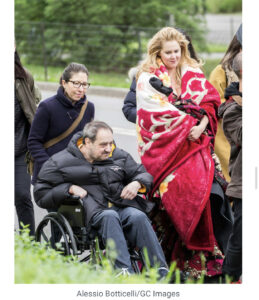 In 2016, Amy Schumer announced that she had repurchased the family farm, which her father had lost when the family had gone bankrupt.
Shares no-makeup photos
She decided to surprise her father during the holiday season and posted a picture of the beautiful event on Instagram. At e time, she also posted a video of herself as a young girl on the farm.
"Video from the farm when I was running away in the cornfield and my dad was taunting me because I wanted him to come with me," she wrote in the caption. "We lost the farm when we lost everything else. But today, I got to buy it back for him."
Just as she's always done what she wants in her own way, Amy Schumer is also very keen on showing her true self outside of the spotlight. The 40-year-old has several times posted pictures of herself without makeup through her social media channels, letting the world know that it's always OK just to be yourself, no matter what. And we can all agree that she looks terrific!
In 2015, she even asked followers to tweet pictures of themselves without makeup in a parody sketch, which sparked quite a movement.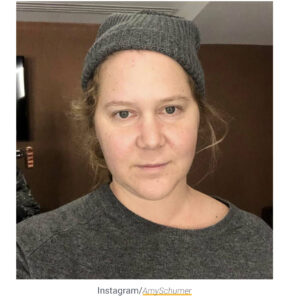 "I have been brought to tears with all the strong, badass, incredible women tonight. In jungles, jumping out of planes, holding their babies' and mothers' hands. All the strong lovely men who tweeted too. We are all different and beautiful. Let's waste no time stressing bout looks," Schumer wrote. "We are sisters and fighters and laughers and happy strong women. Smile at yourself in the mirror girl."
Amy Schumer – family, husband, children
Besides becoming a very successful comedian, actress, and writer, Amy Schumer has also settled down. In the 2010s, she had brief relationships with fellow Comedy Central roaster and comedian Antony Jeselnik and WWE star Dolph Ziggler. However, they didn't last.
Instead, Amy Schumer would meet her now-husband, Chris Fischer, in a unique way. To start with, Chris Fisher's sister, Molly, was Amy's assistant. Then, when Amy Schumer and her family were out on a trip, Molly decided to hire her brother to cook for the Schumer family at Martha's Vineyard, Massachusetts.
Chris Fischer cooked a meal for Schumer and her family at their family farm at Beetlebung. And in the beginning, she tried to play it very cool.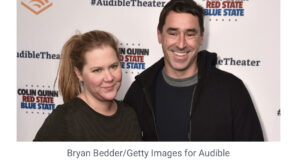 "I went really out of my way to make sure he knew I wasn't flirting with him. You know, I'd be like, 'Oh, I haven't s–t in three days," Schumer recalled in an October 2019 interview. "Just really hitting him with the hotness."
Married Chris Fisher in 2018
It didn't take long before Schumer and Fischer – who works as a professional chef – had formed a special bond. She soon after asked him to help her cater a dinner for her friend's birthday in 2018, and soon, sparks ignited.
"It just felt like we were hosting this party together," she told Howard Stern. "He was cooking, and I was getting things ready, and we wanted everyone to have a really good time. And I was like, 'Uh oh. You know? I got that feeling where all the blood goes to all the places. And we were looking at each other a little bit longer. And it just changed."
With her assistant Amy's blessing, Amy and Chris started dating. They officially confirmed their relationship in February of 2018 – and just days later, the two tied the knot in a private wedding ceremony in Malibu, California. On May 5, 2019, the couple welcomed their son, Gene.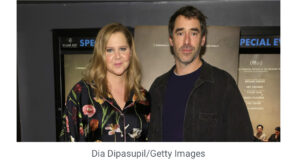 Becoming a mother – or a father – is what many says the greatest joy of all. However, at the same time, it may also include struggles and constant worry about the little baby, since you're all of a sudden responsible for another life.
Amu Schumer opens up about struggles with motherhood
The same goes for Amy Schumer. She explained that being a mother is "heaven on earth". However, at the same time, it has also given her the realization that it also can be quite heartwrenching.
Through the years, the 40-year-old has been known for sharing her personal life and thoughts with her fans, which includes both positive, and negative things.
In an Instagram post in early February, Schumer revealed in an honest post that motherhood – besides being wonderful – also means a "constant feeling of guilt and vulnerability."
"I will never get used to. Your heart feels like it's outside your body and you're too old to drink the feelings away like you used to," she shared. When you were in love and scared. Send help."
During the coronavirus lockdown, Amy and Chris took a relatively new, more intimate step, with their fans, inviting strangers into their home to film a cooking show for Food Network, called Amy Schumer Learns to Cook. And it turned out that she had great talent.
"She's a great student. She really focuses and listens, and isn't afraid to mess up," Fischer said. "And that's the thing with cooking, you have to roll with anything.
Amy Schumer is genuinely one-of-a-kind and a role model for many. So please, share this article with friends and family to honor her!