It was the slap heard around the world.
There have been few moments in the history of televised awards shows that come close to comparing to the shock-factor induced by Will Smith striking Chris Rock at the 2022 Oscars.
Rock, in his role as presenter on the night, made a throwaway joke about Smith's wife Jada Pinkett Smith's alopecia, and it was enough to cause Smith to leave his seat, approach the stage, and deliver a blow quite literally no one saw coming.
It's been a year since the infamous incident, but despite laying relatively low, it would appear that Rock is in no mood to turn the other cheek. On the contrary, the comedian recently released a Netflix special wherein he went into detail on Smith, his wife, and the events of last year's Academy Awards.
For Smith's part, the actor is said to have been left "embarrassed and hurt" …
It's hard to believe it's been a year since the debacle at the 2022 Oscars.
On the night where he was presented with the statuette for "Best Actor" for his portrayal of the father of Venus and Serena Williams in King Richard, Will Smith went viral for all the wrong reasons, evoking the ire of fellow attendees and TV viewers around the world in the process.
The 54-year-old actor received a 10-year ban from the Academy Awards and has spent much of the past year issuing apologies for his behavior.
Chris Rock, on the other hand, bided his time before striking back. The popular comedian released his new Netflix special, titled Chris Rock: Selective Outrage, a week before this year's Oscars, and didn't pull any punches with regards to Smith.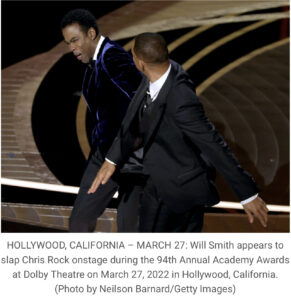 "You all know what happened to me, getting smacked by Suge Smith. Everybody knows," Rock said. "It still hurts. I got 'Summertime' ringing in my ears."
He continued: "We are not the same size. This guy does movies with his shirt off. You will never see me do a movie with my shirt off. If I'm in a movie getting open-heart surgery, I got on a sweater.
"He played Muhammed Ali. I played Pookie in 'New Jack City.'"
Rock went on to mention Smith's wife, Jada Pinkett Smith, referencing the "entanglement" that was the basis of a previous confession the actress made with regards to seeing another man while married.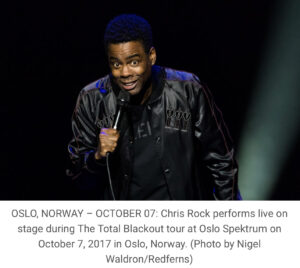 "I did not have any entanglements," Rock said. "She (Jada) hurt him way more than he hurt me."
Rock concluded: "I love Will Smith. Now I watch 'Emancipation' just to see him get whooped."
According to Entertainment Tonight, Smith has been deeply affected by Rock's Netflix special. Though the outlet say he hasn't watched it himself yet, he's been informed of its content by others, leaving him hurt and embarrassed.
The Daily Mail, meanwhile, say that Rock might have been prepared to let the infamous slap fade into the back of people's minds had he received a full and personal apology.
"Chris never got a one-on-one private apology from Will, only the public one which really meant nothing," a source close to Rock told the Mail.
Who's side were/are you on in the whole "slap gate" case? Do you think Chris Rock went too far with his jokes? Or was Will Smith completely out of order when he slapped him?
Let us know your thoughts and feelings on all of the above in the comments box.
Meanwhile, share this article on social media so more people can reas it!