Your wedding is a big, special day in your life. It's the start of a new chapter in your life with your new spouse—but it's also an opportunity to celebrate with your friends and family, the loved ones who raised you and helped get you to this point.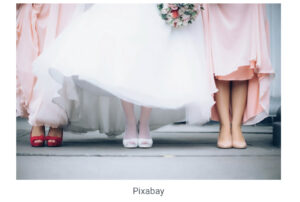 Which is why it's a special custom to give some of your loved ones positions of honor in the ceremony, like the maid of honor or the best man, to showcase how important these people are to you.
The position of the "flower girl" is usually assigned to young girls—nieces or young family members of the couple—but one new bride decided to do something differently: she gave the position to her four grandmothers!
Lyndsey Raby was engaged and had her wedding date set for September 22, 2019. Making her wedding party plans, she knew she had to make a special place for four special ladies in her life.
"I knew as soon as I was engaged I wanted to involve my grandmothers," Lyndsey told HuffPost. "I felt so blessed to have them all here so I wanted them to be involved too."
The quartet of grannies included the bride's 90-year-old great-grandmother and two grandmothers, and the groom's grandmother.
Dressed in matching blue lace dresses, the four ladies walked down the aisle, tossing out flowers from bags that said "Here Comes the Bride."
Photographer Natalie Caho was there at the ceremony in Benton, Tennessee, and captured the precious moment. They were unlike any flower girls she had ever seen.
"I've seen a lot of cute flower girls in my day, but these four gals take the cake," Caho wrote on Instagram.
Not only were they a unique, special addition to the ceremony… they were also apparently the life of the party!
"When Lyndsey told me she was having her grandmothers as her flower girls, I was not expecting the level of sass that these girls brought!" Caho told Insider.
"Their energy all day was that of a little girl who is in the same position and they had so much fun all day being such a big part of Lyndsey's day and sharing the spotlight with her," Caho added. "It truly just goes to show that age is just a number."
Some of us are blessed to have older people in our lives who can impart their experience and wisdom on us. On your wedding day, sometimes the best company a bride can have on her big day is a group of loving women who had been through it all already.
"Most girls are lucky to even have one grandmother present," Caho told HuffPost. "And the fact that [Lyndsey] had four was a big deal that she wanted to savor."
The bride recommends letting your elders be a special part of your ceremony: "It means so much to them and it will mean so much more to you," Lyndsey said.
"I do believe they were more excited than my bridesmaids."
What a great idea! Hopefully more brides who have older women in their lives do something like this, giving them a place of honor on their big day!
Share this beautiful story!