It's fair to assume many celebrities have undergone plastic surgery. Some have had botox, while others have altered their entire bodies. One of those people is Mary Magdalene.
The Toronto, Canada native experimented with the surgeon's knife and became famous for it. She claims to have spent thousands and thousands of dollars on plastic surgery in what has become an alteration of her face and several other body parts.
The model has posted new pictures of her latest procedure, which involves a "Barbie face" and "cat eyes."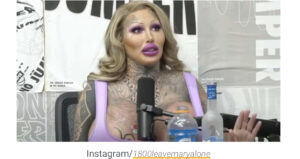 We all want to be the best version of ourselves we can be, and for some, that also means looking good. Or at least what we perceive to be "looking good." This can entail everything from dressing up to testing new skin lotions and different beauty regimes to dieting or working out in a bid to feel good.
For some, though, this isn't enough. However, if there's anything plastic surgery has taught us over the years, it's that it's not – as was once assumed – all about drastically changing one's appearance.
Mary Magdalene – plastic surgery & procedures
For some people, plastic surgery is more about feeling more comfortable with their looks.
Ultimately, we should all be able to do what we want where our appearance is concerned, so long as what we're doing doesn't impose any risks upon our life. Put simply, our bodies are ours.
Of course, a few people take it a bit further, namely those who want to change how they look entirely.
One such individual is Mary Magdalene, 25. She from Toronto, Canada. She became an internet sensation when she started doing plastic surgery. At the age of 21, she went through with her first procedure.
The Sun reports that as of today, Maria has done plenty more. Through her Instagram account, Magdalene is documenting her journey, saying that her 'new face' looks like a "forest fairy elf."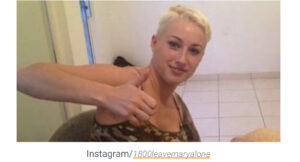 So how did it all start?
Mary Magdalene began working as an exotic dancer at the age of 17. Her first surgery was a breast operation, and in an interview with XX, she said that she always loved "the fake bimbo look."
Worked as exotic dancer and 'therapist'
Her business grew, and over the years, she became very famous through Instagram, where she at one point had over 300,000 followers. Unfortunately, her account got suspended, and today, Mary has nearly 70,000 followers. During the pandemic, Mary Magdalene became a full-time virtual exotic dancer, where she charges about $110 for five minutes.
She had up to 50 sessions booked every week, with customers being both men and women between 20 and 80.
"I do a chat and a [exotic dance], although sometimes I am just a therapist. Some people just love having someone to talk to," Mary Magdalene told Unilad. "I get all sorts of different requests. Some people just want to see me eat, twerking, trying on clothes. I also get foot fetishists – I've even had people begging me to humiliate and insult them."
What started with one plastic surgery of her breasts soon became way more for Mary. She covered her body with tattoos, and over the years, she's gone under the knife many, many times.
Her cup size is now 38J, with 5,000cc expanders to enlarge her breasts. All in all, Mary has done a brow lift, fat transfers, three Brazilian butt lifts, multiple nose jobs, boob jobs, liposuction, veneers, and butt injections.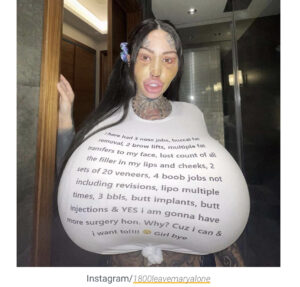 According to The Sun, Mary Magdalene had to fly to Russia to go through her latest surgery. The operation was so extreme that she couldn't get it done in the US.
Spent over $100,000 on surgeries
Even though one might think that Mary can't do anything more to her body to enhance it, she revealed that there still are more surgeries to come.
"Next week I have my eyebrow transplant, jaw and lips booked then my face will be complete,' she captioned the photo," she told The Sun in early February.
Having plastic surgeries isn't a new thing. It's been available to the public for decades. We mostly encounter it when celebrities go through different procedures or botox injections. Several stars – Simon Cowell and Courtney Cox, among others – have been very open about their beauty procedures.
One obvious thing is that plastic surgery isn't cheap at all. For the average person, it means that you probably have to save up to get the injections or surgery. And in the case of Mary Magdalene – it indeed hasn't been cheap.
According to Unilad, the Toronto native model has spent over $100,000 on her surgeries. Some doctors have even turned Mary Magdalene away because of the many procedures.
"The doctors think I don't need any more surgeries but respect the fact that I have my own unique aesthetic and are open to helping me achieve my goals,' she explained.
Plastic surgery can alter one's appearance. However, it can also be quite dangerous. There have been numerous examples over the years of surgeries gone wrong.
The doctor thought Mary Magdalene was dying
The procedures can lead to everything from inflammations and infections that can worsen scars to complications that can be fatal in the worst case. This was something Mary Magdalene almost experienced.
Magdalene wanted to achieve, as she called it – the "fattest v*gina in the world." So surgeons transferred fat from other parts of her body and injected it into her v*gina. However, it all went wrong. Her left side kept growing consistently, which resulted in a surge of scar tissue. It required her to have two blood transfusions to save her life.
Mary Magdalene underwent v*gina reduction surgery to survive, but:
"I custom-designed it, so I have the fattest in the world. I almost died during [the] procedure," Mary Magdelene said on the No Jumper podcast. "The doctor said I was losing so much blood and turning very pale. He thought I was going to die."
"He thought I was going to die. I felt nauseous for a whole week, and I thought I was dying and had a bad allergic reaction to the new blood I received from the transfusion."
Mary Magdalene fortunately survived. However, it didn't stop her from altering her body with new procedures.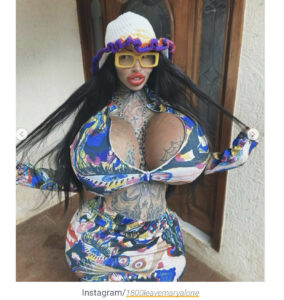 Her appearance also draws plenty of attention when she's out in public.
"I plan to have my next boob surgery in a couple of months. I'm on the fence with what route I'm going to take, but I plan to have the world's biggest boobs," she said.
Mary Magdalene today – new surgeries
"I get a lot of dirty looks and have literally caused car accidents. I often have people stop me on the street begging for my number and desperate to give me money. The wives and girlfriends try and distract their boyfriends and husbands when I walk by because they are jealous. They will stare at [my body] and get turned on," Mary added.
"But I don't care; they always find a way to stare at me anyway. There have been times where they secretly slipped me their number before. I thought it was hilarious.
Earlier in February, Mary Magdalene posted a new photo of herself on Instagram. After her recent nose surgery, her face was swollen and wrapped in a bandage. Mary described herself as a "forest fairy elf."
"My top tip is still not f***ing moving at all from the surgery!" she said in a short video. "It's still swollen from the nose surgery, so even talking is weird.
Despite her face being swollen, Mary was pleased with the result.
"It's a very fake-looking Barbie nose which is exactly what I asked for, and so many surgeons said it was not possible for me to have this type of nose because of my three prior nose jobs."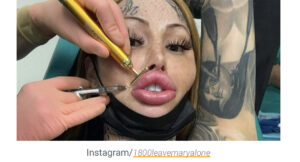 Looking back, it's evident that Mary Magdalene can't stop herself from undergoing surgeries. So has it been worth it?
"I am optimistic"
The 25-year-old says that she can no longer drink from a straw, and because her lips are too big, she can't whistle.
"Another negative are the complications from my v*gina surgery, but I am optimistic that it will get repaired," she said, adding that there are some positive aspects as well.
"The biggest positive is my [love] life; my over-sized body parts make everything way more fun, and my surgeries, in general, have just become great for my business and brand."
Even though she gets a lot of attention and makes money through her work, getting into a serious relationship can be difficult. Dating, Mary Magdalene says, isn't the easiest thing because of her looks.
"They get controlling and insecure about my Instagram and my website; they hate other men seeing my [hot] pictures, and they wish I wore more clothes out in public because it is too chaotic,' she said."
What do you think of plastic surgery? Give us your opinion in the comment section and share this article on Facebook!