A 14-year-old boy who was a freshman at his high school in Maine and well-loved by the entire community ventured out of his home one day only to never return.
His family was hoping against hope for his safe return but unfortunately, things did not progress that way…
14-year-old Theo Ferrera was adored by his friends and family. He lived in Freeport, Maine, and was a student at the local school, Freeport High School.
Theo was adored by his family and friends, namely his mother who doted on her young son. The young boy was loved by his entire community and was incredibly social. Everything in the family's life was ordinarily perfect until the day Theo went missing.
Theo's worried mother, Mia Kulla Ferrara reported to authorities that her young son was missing. On September 22, 2022, the teenager left home wearing his blue backpack but never returned. His worried mother immediately alerted authorities and also took to Facebook to implore her friends and family for help.
She wrote, "Our son went missing today and was last seen at 4:30 p.m. on Flying Point Road in Freeport heading towards Brunswick." She followed this with a brief physical description of her son and what he had been wearing and carrying, asking anyone with any information to come forward.
While she did her part, the Freeport and Brunswick police and several other local authorities began to search for the young boy themselves as well.
His mother was hopeful that with all the effort being made on his behalf, her young boy would return home safe and sound. She thanked everyone for volunteering time and effort to search for her son, she wrote, "We love Theo so much and just need him home safe."
Five days since the young teenager was first reported missing, the search had it's first major break. A Marine patrol aircraft found a body near Bunganuc Point and authorities immediately went to the site to investigate further.
19-year-old with autism who had been missing for nearly 3 years found alive 11.5 hours away from home
Dad can't save drowning daughters – then a teen pops up out of nowhere and jumps in
"The body was recovered and taken to the Maine Medical Examiner's Office, where it was identified as Ferrara," the Freeport Maine Police Department said in a statement. The news devastated the Ferrara family who was beside themselves with grief.
The authorities thanked everyone who volunteered their time and effort to the search of Theo Ferrara and asked everyone to give the family time and space to grieve.
Superintendent Jean Skorapa from Regional School Unit 5 also made a statement about Theo's death. The statement read, "It is with a heavy heart that I write this letter to inform you that this afternoon, Theo Ferrara was found deceased." Superintendent Skorapa also urged parents to talk to their children about the incident and answer any questions they may have, pointing out the extra resources of counselors the school would be providing.
The community was rocked at the news of young Theo's death. Many people were praying that they would find the young boy safe. As authorities investigated his cause of death, they also sympathized with people who were understandably upset by the entire thing. Freeport Police Chief Nate Goodman said to the press, "We're all human. We all feel it."
The Freeport High School that Theo attended also organized counselors for students to talk to after learning about Theo's death since incidents like these can really affect young minds.
After the news of the body being found was confirmed to be of Theo's and the information reached the school, the atmosphere of the institute visibly changed.
17-year-old student of Freeport High School Adian Morley said, "It's depressing. Everyone's crying leaving school."
Social workers from the school district arrived shortly after and the school cafe was turned into a drop-in center where disturbed students could go talk to social workers, get something to eat, and play with dogs to reduce their anxiety.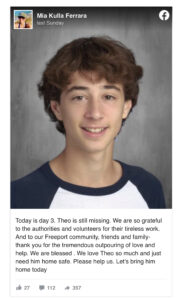 Social workers tried to talk to students about the incident, address their questions and concerns to comfort them but according to Nancy Rochat, a veteran social worker, the students felt more comfortable talking to their friends.
People from all over the country had been tuned into Mia's posts about her missing son and upon learning about the young boy's passing poured in their condolences to the Ferrara family.
The news of Theo Ferrara's death is absolutely heartbreaking. We extend our condolences to the family during this difficult time for them.