A family is hailing their toddler "a mini hero" after he is saved them from a fire that had broken out in their home. The incident happened around 4:30 a.m. on January 30 when 2-year-old Brandon Dahl woke up his parents and alerted them using only a few words. "He tapped me on my feet in bed and was coughing and saying, 'Mama, hot. Mama, hot,'" mom Kayla Dah told Good Morning America. "I turned around. I looked and all I saw was flames in the doorway."
Had it not been for her son, the family of seven wouldn't have been alive today. Kayla and her husband Nathan had lost their sense of smell after contracting COVID-19 and they couldn't smell the smoke from the fire that had started in their Alvord, Texas home. Thanks, to Brandon, all seven of his family members escaped unscathed right before their home was engulfed in flames.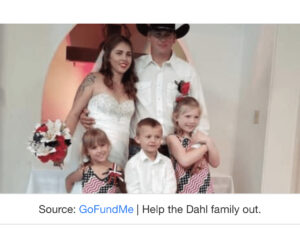 According to ABC affiliate WFAA, the fire alarm in their homes was less than a year old but it only went off after all of them were outside. "He saved our entire family. I mean, he's our little mini hero," shared the proud mother. Meanwhile, Brandon's father, who is a volunteer firefighter, shared, "We had seconds. It's nothing short of a miracle." The parents revealed that they had practiced fire drills with their kids in the past but due to their lack of smell and taste, it made the situation even more precarious.
The family has now lost everything, even their vehicle in the fire which is believed to have been started by a gas heater in the room where Brandon was sleeping that night. They are now trying to recover from the shocking incident that has changed their lives. "It's going to be a long, hard road to get to be where we need to be and to replace those material items," Kayla told The Washington Post.
"But at the same time, if it wasn't for my son's guardian angel that morning, I don't know where we would be," she added. A GoFundMe page has been created for the family to help cover their immediate expenses. "Kayla told me this morning that for right now the major need is clothes," wrote Kayla's best friend Chellsea Malson on the fundraising page.
ADVERTISEMENT
"Nathan- 32×32 pants, large shirts, size 15 shoes
Kayla- 7/8 womens pants, large shirts, size 8 shoes
Haylee- 16/18 girl clothes; size 11 womens shoes
Aydin- 10/12 boys clothes; size 4 shoes
Aleea- 7/8 girls clothes; size 1 shoes
Brandon- size 3t boys clothes; 9t shoes," it added.
Please click here if you wish to help the family during these hard times.
ADVERTISEMENT
Cover image source: GoFundMe | Help the Dahl family out.
Disclaimer : This article is for informational purposes only and is not a substitute for professional medical advice, diagnosis, or treatment. Always seek the advice of your physician or other qualified health provider with any questions you may have regarding a medical condition