Whether you call it irony or fate, the final outcome for Holocaust survivor Vanda Semyonovna Obiedkova was most certainly a tragic one.
The 91-year-old Jewish-Ukrainian resident of Mariupol met her demise on April 4 during the Russian invasion of Ukraine.
Obiedkova had ironically survived the Nazi attack of the exact same southeastern city of Mariupol in Ukraine, many years earlier.
She died while hiding in a bunker when her city came under heavy bombing during a 'special Russian military operation'.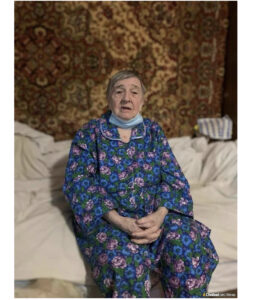 A community in mourning
Not many Jews remain in Mariupol at present and Obiedkova was well known in the community.
The town's only Rabbi, Mendel Cohen, expressed huge sadness over their tremendous loss.
"The whole of Mariupol has turned into a cemetery," he said.
"Vanda Semyonovna lived through unimaginable horrors. She was a kind, joyous woman, a special person who will forever remain in our hearts."
Rabbi Cohen has been working to extradite members of his community over the past weeks but simply could not get to Obiedkova and her family in time.
He has since managed to evacuate Obiedkova daughter, Larissa and her family.
The daughter, Larissa, has also spoken out about her mother's tragic death.
"Mama didn't deserve such a death," she said.
Past Horrors
Obiedkova's horrors first began in October 1941 at the hands of the Nazi Schutzstaffel, commonly referred to as the SS. Under Adolph Hitler's rule, the powerful Nazi Germany paramilitary organization was growing and already occupying much of Europe.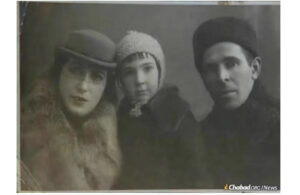 Obiedkova was just 10 when the SS entered Mariupol and begun to round up the Jewish people in her town. Most of Obiedkova's family, including her mother, were executed alongside another 9,000 to 16,000 Jewish Mariupol residents on 20 October, 1941.
Obiedkova managed to avoid that carnage but was held by Nazi forces. She luckily managed to be saved, after family friends convinced her detainers that she was Greek and not Jewish. She then hid with her father in a hospital for two years, up until Mariupol was at last liberated in 1943.
Despite all the horrors she experienced, Obiedkova loved her city and remained there until her recent death. She married in 1954 and was living with her daughter in recent years.
"Mama loved Mariupol; she never wanted to leave," her daughter Larissa said.
Present Horrors
Innocent civilians all over Ukraine have inevitably been coming under attack since February 24, after Russian President Vladimir Putin began his offence on the country.


Obiedkova and her family were no exception, and struggling to survive in recent weeks. They were forced to move into a heating-supply store's basement when the Russian bombing first began.
With supplies running out, they were forced to risk their lives several times to make the trip to the nearest water source, which had two Russian snipers stationed next to it.
"There was no water, no electricity, no heat, and it was unbearably cold," Larissa said. "[But] there was nothing we could do for her. We were living like animals."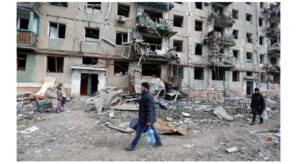 "Every time a bomb fell, the entire building shook," she added. "My mother kept saying she didn't remember anything like this during the Great Patriotic War [World War II]."
While sheltering for days in the cold and dark basement, Obiedkova became very weak and eventually couldn't even stand up. She finally died on April 4 with her daughter Larissa by her side.
What a tragic and sorrowful tale! Please share to commemorate the memory of Vanda Obiedkova.