Alec Baldwin is being sued by the family of late Rust cinematographer Halyna Hutchins. The actor is accused of firing a single bullet that hit Hutchins' – who passed away – exited her body, and then struck director Joel Souza, who survived.
At the same time as Hutchins' family sues Baldwin, new details about what happened have come to light.
In a new, chilling video, the moment Alec Baldwin allegedly pulled the trigger of the prop gun is included.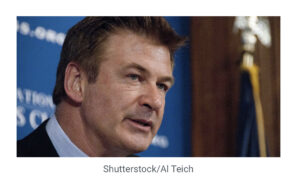 The world of show business was sent into shock and grief in October of last year. On the film set for Rust in Sante Fe, New Mexico, actor Alec Baldwin's prop gun discharged a live bullet, striking the cinematographer Halya Hutchins – who passed away – and injuring the director, Joel Souza, during a scene preparation.
Alec Baldwin – fatal incident on movie set
"Someone put a live bullet in a gun, a bullet that wasn't even supposed to be on the property," Baldwin said. "Someone is ​responsible for what happened, and I can't say who that is, but I know it's not me."
Besides Alec Baldwin, the investigation surrounding the incident has also been centered around assistant director Dave Halls. According to reports, he was the one who handed Baldwin the gun and told him that it was safe to use it. Also, armorer Hannah Gutierrez Reed – who loaded the weapon – was centered in the investigation.
Halya Hutchins, 42, was airlifted after the incident and transported to the University of New Mexico Hospital, where she was pronounced dead by medical staff, according to the Santa Fe County Sheriff's Office. Director Joel Souza was transported via ambulance to Christus St. Vincent's hospital and was later released.
Shortly after the incident, Alec Baldwin took to Twitter to give condolences to Hutchins' family.
"There are no words to convey my shock and sadness regarding the tragic accident that took the life of Halyna Hutchins, a wife, mother, and deeply admired colleague of ours. I'm fully cooperating with the police investigation to address how this tragedy occurred, and I am in touch with her husband, offering my support to him and his family," Baldwin said in the tweets from an account for the Hilaria and Alec Baldwin Foundation.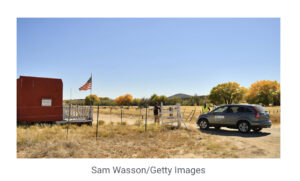 "My heart is broken for her husband, their son, and all who knew and loved Halyna," he added.
Halyna Hutchins passed away, director injured
Alec Baldwin's wife also broke her silence on the incident.
"My heart is with Halyna. Her husband. Her son. Their family and loved ones. And my Alec," she wrote in an Instagram post. "It's said, 'there are no words,' because it's impossible to express the shock and heartache of such a tragic accident. Heartbreak. Loss. Support."
Since the fatal incident, a police investigation has been ongoing. In January, the Santa Fe Sheriff's Office confirmed that Alec Baldwin had turned over his phone to authorities. They intend to gather data such as text messages and voicemails as a part of their investigation.
In November of last year, script supervisor Mamie Mitchell, who called police after the New Mexico film set incident, filed a lawsuit against Alec Baldwin. No criminal charges were brought against the actor or anyone else at that time.
Court records stated that Alec Baldwin was handed the gun by the film's assistant director Dave Halls, who didn't know it contained live ammunition. Further, the weapon was unloaded by shouting "cold gun."
Mitchell's lawyer accused the actor of "playing Russian roulette" when he fired the gun without checking it.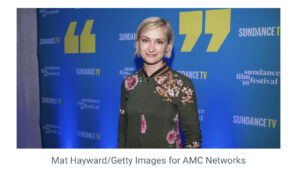 "There was nothing in the script about the gun being discharged by defendant Baldwin or by any other person," the lawsuit read.
New lawsuit against Alec Baldwin
Baldwin's lawyers were seeking to dismiss the lawsuit. However, the film's producers said it was a "workplace accident," and Baldwin insisted he "didn't pull the trigger."
"I don't know what happened on that set. I don't know how that bullet arrived in that gun, I don't know," he told ABC News in November, "But I'm all for doing anything that will take us to a place where this is less likely to happen again."
"This was a marking rehearsal," Baldwin added. "And [Hutchins] says to me, 'Hold the gun lower. Go to your right. Okay, right there. All right, do that. Now show it a little bit lower.' And she's getting me to position the gun. She's guiding me through how she wants me to hold the gun for this angle. I'm holding the gun where she told me to hold it, which ended up being aimed right below her armpit."
Alec Baldwin is returning to work for the first time since the fatal incident on the Rust set last year. But now, a new lawsuit against him has been filed, this time by the late Halyna Hutchins' family.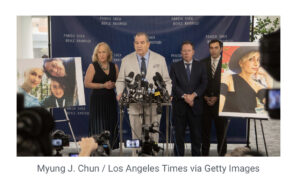 Hutchins' lawyer filed – on behalf of Halyna's husband, Matthew Hutchins, and their son, Andros – a wrongful death suit which names Baldwin and others who "are responsible for the safety on the set" and "reckless behavior and cost-cutting."
New animated video released
Hutchins' family is suing for punitive damages, funeral and burial expenses, among other things to be determined at trial.
"Halyna Hutchins deserved to live, and the Defendants had the power to prevent her [passing] if they had only held sacrosanct their duty to protect the safety of every individual on a set where firearms were present instead of cutting corners on safety procedures where human lives were at stake, rushing to stay on schedule and ignoring numerous complaints of safety violations," the lawsuit reads.
"This lawsuit seeks justice for the losses of her survivors and to hold responsible those who caused her tragic [passing]."
The lawyer interviewed witnesses before filing the lawsuit.
Also, a new, chilling video released shows a reenactment from the movie-set incident that took Halyna's life.
The animated footage uses a computer-generated figure of actor Alec Baldwin and others on set on the day of the incident. The animated film also includes the moment where Halyna Hutchins was shot by what was supposed to have been a prop gun.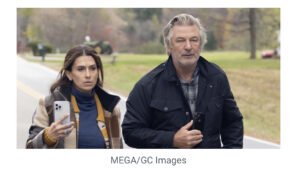 "There are many people culpable, but Mr. Baldwin was the person holding the weapon… that but for him [firing the gun], she would not have [passed away]," lead attorney Brian Panish, said at a press conference in Los Angeles on Tuesday, as reported by the New York Post.
"I'm hit"
"[Baldwin] has significant portion liability, but there are others, and that's what this case is going to be about — assessing fair apportionment to whoever's responsible for the senseless tragedy," the lawyer said of the suit filed in New Mexico.
The chilling footage in the 10-minute animated video reveals new details of what happened when Baldwin's gun went off. It included footage when the bullet seared through Hutchins' chest.
Furthermore, the video shows Baldwin sitting in a provisional church building on set when the gun was fired. According to Hutchins' lawyers, it hit her from four feet away.
"I'm hit," Hittchins' said according to the lawsuit, reported by the New York Post.
The narrator says in the video that the footage explains that there are simple ways to tell whether a bullet is live before being fired. Further, a dummy bell would have had a hole in it, and rattle if shaken. On the contrary, a real bullet lacks the hole and doesn't make any sound, The Post reports.
"I think it's clear what happened," lead attorney Brian Panish told reporters. "Alec had the gun in his hand. He shot it."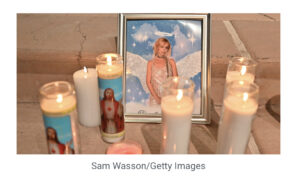 "Any claim that Alec was reckless is entirely false, Aaron Dyer, the attorney for Baldwin, said.
Hutchins was only 18 inches away from the firearm, expert claims
"This protocol has worked on thousands of films, with millions of discharges, and there has never before been an incident on a set where an actual bullet harmed anyone," Dyer added. "Actors should be able to rely on armorers and prop department professionals, as well as assistant directors, rather than deciding on their own when a gun is safe to use."
Hutchins' was said to have been hit from four feet away. However, there are different opinions on how close she was to the gun. Special effects coordinator Thomas Gandy claimed that she was standing even closer.
"Halyna was telling Alec she wanted to see his thumb working the hammer back to do the shot," Gandy said on The Deadly Take, as reported by Yahoo News. "She stood only approximately 18 inches away from the firearm."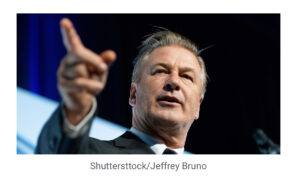 Baldwin has spent the last number of months with his family. But now, he's returning to work for the first time after the incident.
Through his Instagram page, Alec Baldwin shared an emotional video recorded at the airport on his way to the new filming project. It's not yet been revealed what the project is about. However, The Sun reports that Alec Baldwin will lead the upcoming film 97 Minutes.
Emotional new confession
Baldwin told his followers that he was going on a work trip in his video message. The 63-year-old actor made an emotional confession about life, saying how leaving his beloved wife Hilary and their six children is very difficult and "very sad."
Baldwin further admitted that he hadn't been able to get much rest, saying that his eyes are "still so puffy." Leaving his family is tough, and the fact that Baldwin's eldest child with Hilary is eight years old is "unbelievable" to him.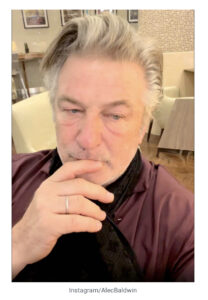 "I don't have anything else in my life. I really don't have anything else in my life that matters to me on that scale, and I really mean that. I'm not asking anyone to pin any medals on me, but I just haven't done anything else in my life that even remotely means anything to me," Baldwin said, adding that he's tried to work as little as possible in the last five years because of his responsibilities at home.
"Hug your kids and love your kids"
Alec Baldwin concluded the emotional video encouraging his followers to cherish all their time with loved ones.
"I hate to leave my family. I'm turning down jobs I think I shouldn't do because I hate to be away from my kids. I hate to be away from my wife and kids. I'm on my way to go on a trip and leave my family – it's not that long – but I hate it. I really hate it," he said, adding that he feels very fortunate to come home and have his kids "mesmerize" him.
"They pull me into a world I never dreamed I would be a part of. It's unbelievable. I have a good partner. Hug your kids and love your kids and make every day count," Alec Baldwin said.
The Santa Fe County Sheriff's department is still investigating the case involving Alec Baldwin and the passing of Halyna Hutchins. Previously, authorities warned that it could take several months before the case is turned over to the district attorney.
What do you think about this? Please give us your thoughts in the comment section. Meanwhile, share this article on Facebook.