Saturday's deadly tornado in Iowa left seven people dead, four of which were from the same family.
The family were huddled in the pantry of their home, which didn't have a basement, near rural Winterset, just outside the capital Des Moines, when one of the deadliest storms to hit the state since 2008 tore through.
Two children, their father and their grandmother all died when the tornado hit. Family members said the children's mother, 8-year-old brother, grandfather and uncle survived the storm, but they were injured, as per NPR News.
The children and their parents, from Blue Springs, Missouri, were visiting their grandmother, Melissa Bazley, 63, when the tornado hit.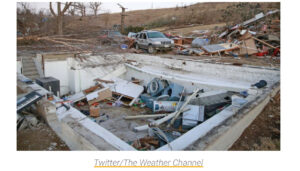 The storm killed Bazley, 37-year-old Michael Bolger and two of his three young children, 5-year-old Kinlee Bolger and 2-year-old Owen Bolger, as per NPR News.
A GoFundMe set up to help the family has raised more than $440,000 of a $500,000 goal.
Kayla, a longtime friend of the family's who's organizing the fundraiser, confirmed that Mike, Kinlee and Owen lost their lives adding, "(Mom) Kuri is currently still in the hospital with severe injuries but stable and Brysen has been discharged from the hospital with minor injuries.
"There will be a long road ahead for both of them and their entire family as Kuri lost her mother in the disaster as well."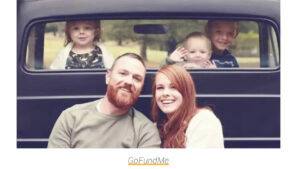 Mike's mom Lynn Larson said she and the rest of her family are "just devastated," as per NPR News.
"I just can't describe how wonderful Mike was. Everybody loved him," she said. "It just rips your heart out. My grandchildren were wonderful. They were just the light of my life."
Neighbors of the grandparents in Iowa, Rodney Clark, 64, and Cecilia Lloyd, 72, also died after the tornado hit their homes.
The tornado was part of a storm system that caused damage in other counties. A seventh person died in Lucas County, about 54 miles (87 kilometers) southeast of the capital Des Moines, when a separate tornado struck less than an hour later, injuring several other people.
My heart goes out to those families who lost loved ones in this devastating storm. May they rest in peace.
Please share so more people can support this family who have a long road of healing ahead of them.