Any parent knows that children are full of surprises and you're never prepared for the stages they reach in life.
One of these is their growing appetite which comes with an ability to consume the largest amount of food and still be hungry; keeping up with the buying and preparing of food can often feel like a full-time job.
So, when mom Josette was asked by her 14-year-old son Dylan if she could make him two lunches she raised an eyebrow but just presumed the lunches she was making wasn't enough food for her growing boy.
It wasn't until she quizzed him that she realized this request was not for himself.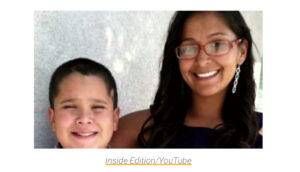 "About the second week that school started this year, I was making Dylan's lunch in the morning and out of nowhere, he said 'Mama, can you make two lunches?'" the New Mexico mom said.
"I said, 'Why, are you not getting full enough?' Dylan said, 'No, there's a little boy at school. He only eats a fruit cup. [He has] no money. Can you make two lunches?' I said, 'Sure.'"
It later transpired that the boy's mom was a single mom who had recently lost her job.
"This hits home to me because a few years ago, me and my son were homeless," Josette said. "I was living in my car and I was washing him in bathrooms. And we didn't have food."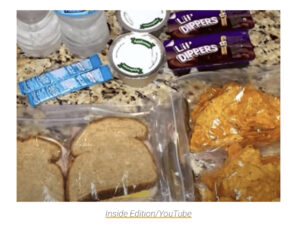 Josette continued to make Dylan and his friend lunches each day, even including fun notes of encouragement.
"I don't think I did anything special, I just did what a human being is supposed to do," a modest Josette told Inside Edition.
Josette, also a single mom, was even called into the school principal's office where the boy's mom wanted to personally thank her for helping her son during their time of need.
The mom told Josette that she had got back on her feet and wanted to repay her for the food she had donated for her son but Josette refused to take the woman's money.
Instead as coach of the school girls' volley team Josette decided to organize a fundraiser to help other children whose families couldn't afford school lunches. The fundraiser secured $400 for the school.
"So now, nobody in that school owes any money, and now everyone can eat," Josette said.
Find out more about this kind-hearted woman in the clip below.
Josette is not only a wonderful human being but also a great mom for inspiring her son to be so kind to those kids around him who aren't as fortunate as he is.
Help us to inspire more people to look out for others by sharing this story.