A 20-year-old man has died after stepping in to help a great-great-grandmother who was punched and stabbed on her way to buy takeaway food.
According to shocking reports, Betty Walsh, an 82-year-old retired barmaid from Brentford, London, UK, didn't even realize she had been stabbed until someone came out to help her.
Her attacker turned his knife on 20-year-old Ali Abucar Ali, who intervened to help Betty. Tragically, Ali did not survive the attack.
Somali 20-year-old hero was fatally stabbed as he saved a great great grandmother, 84, from being repeatedly knifed in a random attack in a west London kebab shop.
Retired barmaid Betty Walsh was set upon as she went to get her supper at Best Kebab and Fish Bar on Albany Parade. pic.twitter.com/BYT2TDhpZC

— Suleiman Hashi (@SuleimanHashi) November 15, 2021
The Daily Mirror say that Betty is no longer on the "critical" list at St. Mary's Hospital after having undergone a kidney operation.
The 82-year-old, who has three sons, three daughters, 10 grandchildren, 12 great grandchildren and a great-great-granddaughter, has lived alone since the passing of her husband more than 30 years ago.
Betty's daughter Bridget offered an update on her mother's condition, while also hailing Ali a hero.
"Everyone knew mum. She has lived in Brentford for 60 years," she said.
"She was lively and fit; she walked every day and was a strong woman.
"She went out shopping a lot and wasn't frail at all. She was football-mad and Brentford FC-mad.
Ali bravely stepped in to help 82-year-old Betty Walsh after she was punched and knifed https://t.co/M4LZCZBs8R

— Evening Standard (@standardnews) November 15, 2021
"She worked in four pubs and worked really hard. Sadly, her husband died more than 30 years ago so she brought us all up by herself and was the rock of the family.
"This will probably have shaken her up quite a lot.
"She didn't realise she had been punched and didn't realise she had been stabbed until someone came out to help her.
"Ali went up and asked what all the commotion was about, challenged her attacker and tried to help her. What happened to him next was a tragedy."
As per reports, Ali challenged Betty's attacker, effectively sacrificing his life to save hers.
Local resident Laura Williams said: "I never knew Ali, but from what I understand if he had not rushed to help poor Betty she probably would have lost her life with immediate effect.
"He stopped in a difficult situation and performed a selfless act for which he paid the ultimate price.
"I really have no words that can describe how his poor family are feeling.
''They deserve every penny raised from the GoFundMe page they have set up. I hope it can form a lasting legacy for him.
''They raised a good person who put himself on the line for someone else and tried to come to their rescue.
''Brentford has lost a very decent human being. He is a hero, 100 per cent.''
So far, a GoFundMe page set up for Ali's family has raised over £100,000 ($134,000).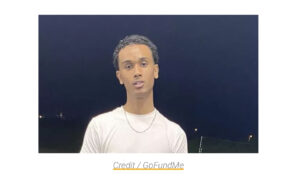 At the time of writing, Betty is expected to make a full recovery. Her attacker, meanwhile, a man in his 30s, has been arrested on suspicion of murder and attempted murder.
Rest in peace, Ali. What a brave young man, and a true hero!
Please, share this article to join us in wishing Betty all the best with her recovery.