Bruce Willis has spoken publicly for the first time since his dementia diagnosis was confirmed, while in the process of celebrating his 68th birthday.
The Hollywood icon retired from acting last year in the wake of a diagnosis of aphasia. Among other things, the condition reportedly impaired his ability to communicate, making it increasingly difficult for him to work on set.
Tragically, however, his condition has worsened since then – his family confirmed earlier this year that he had been diagnosed with frontotemporal dementia.
Needless to say, the diagnosis came as a shock to all of Bruce's loved ones, as well as fans worldwide, and those nearest and dearest to him have been lending their support in all manner of ways.
At the weekend, the Die Hard actor celebrated his 68th birthday, and fans got their first chance to properly see him since the confirmation of his damning diagnosis.
In a video uploaded to social media by Willis' ex-wife, Demi Moore, on Sunday, March 19, Willis' family could be seen singing "Happy Birthday" to him. The Hollywood heavyweight could be heard speaking with his family, 44-year-old Emma Willis and his three daughters, Rumer, 34, Scout, 21 and Tallulah, 29, before blowing out his candles.
Moore, who reports earlier this month suggested may have moved in with Willis and his new wife to help with her former partner's care, accompanied her Instagram post with the caption:
"Happy birthday, BW! So glad we could celebrate you today. Love you and love our family. Thank you to everyone for the love and warm wishes — we all feel them."
As per reports, frontotemporal dementia (FTD) is a condition that impacts the lobes in the front area of the brain. Symptoms can include personality changes, obsessive behavior and speaking difficulties.
Having initially been said to be battling aphasia in 2022, Willis retired from acting to better focus on his health.
Almost a year after the Armageddon actor stepped back from his professional duties, however, it was announced that his condition had developed.
A statement from Willis's wife, Emma Heming, along with his children, and ex-wife Demi Moore, read:
"Our family wanted to start by expressing our deepest gratitude for the incredible outpouring of love, support and wonderful stories we have all received since sharing Bruce's original diagnosis.
"In the spirit of that, we wanted to give you an update about our beloved husband, father and friend since we now have a deeper understanding of what he is experiencing.
"Since we announced Bruce's diagnosis of aphasia in spring 2022, Bruce's condition has progressed and we now have a more specific diagnosis: frontotemporal dementia (known as FTD).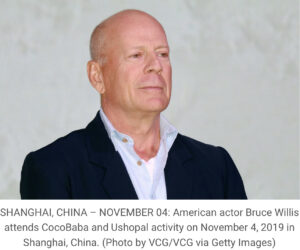 "Unfortunately, challenges with communication are just one symptom of the disease Bruce faces. While this is painful, it is a relief to finally have a clear diagnosis.
"FTD is a cruel disease that many of us have never heard of and can strike anyone."
The statement finished:
"Bruce has always found joy in life – and has helped everyone he knows to do the same. It has meant the world to see that sense of care echoed back to him and to all of us.
"We have been so moved by the love you have all shared for our dear husband, father, and friend during this difficult time.
"Your continued compassion, understanding, and respect will enable us to help Bruce live as full a life as possible," the family concluded."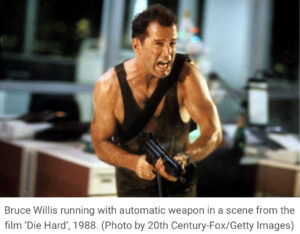 At the weekend, Emma Willis also posted a birthday tribute to her husband, writing:
"He is pure love. He is so loved. And I'll be loving him always. Happy Birthday my sweet.
"My birthday wish for Bruce is that you continue to keep him in your prayers and highest vibrations because his sensitive Pisces soul will feel it.
"Thank you so much for loving and caring for him too."
Join us in sending love and positive thoughts in Bruce Willis's direction.
We're all with you, Bruce, and hope and pray you can continue battling.
Share this article if you want to send strength in Bruce's direction.