A 72-year-old great-grandmother is recovering after she became the victim of a brutal carjacking.
Shirlene Hernandez was on her way inside a San Antonio Shell gas station to purchase a Diet Coke, when a man grabbed her and began fighting her for her keys. Despite several others stepping in, the suspect got away with her car and left Hernandez with a bruised face.
Thankfully police were able to locate her car and the suspect, however her car had been totaled and the suspect was dead.
The frightening encounter occurred Tuesday morning in San Antonio.
As Hernandez walked inside a Shell gas station, something she does every day, a man approached her and hit her several times in an attempt to grab her car keys.
Several people came to her rescue, but the suspect got away.
The attack left her shaken.
"I can see that man in detail. I have a picture in my mind of him that's just, it's there, and it doesn't go away," she said.
Police were able to find her vehicle, however when they located it the car was totaled. They also found the suspect, and he was deceased inside Hernandez's car.
"There's a lot of people who would say what goes around comes around, karma. I did not think that; the only thing I got (was) really sad because he had died," she said. "Now granted, he had hurt me, but the Lord saw fit to take him out of his misery."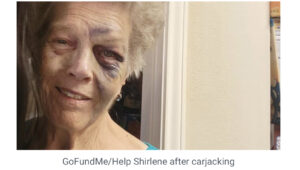 Her granddaughter set up a GoFundMe to raise money so the 72-year-old can get another car.
"I just don't want to quit working, and so I've got to somehow get another car. And that takes money and stuff, so I've got to figure out what to do," Hernandez said.
So far more than $24,000 has been raised.
It's despicable that someone would attack a 72-year-old woman and steal her car. It makes me sick that there are people like this in the world.
Please share and help Shirlene in any way that you can.