Tough cop and volunteer boxing trainer Jack Mook never thought he had a sweet side… until that sweet side completely transformed his entire life.
Jack Mook is your standard no-nonsense, tough guy – a real man's man. As a Pittsburgh police detective and 22-year Army veteran who served in the Gulf War, this should come as little surprise. The straight-talking officer and committed bachelor was known to easily intimidate people, and had little to no plans whatsoever of starting a family.
Mostly, he spent his time working and living day to day. In his spare time, he volunteered at Steel City Boxing, a local gym run by a non-profit organization to help mentor underprivileged children coming from difficult backgrounds.
A Life-Changing Encounter
Among these were the two eager-to-train siblings, Joshua, 15 and Jessee, 11.
"They looked pale," Mook said. "Josh had bags under his eyes."
Jack felt almost an instant connection to the boys – and the feeling was mutual. Little did he know at that time just how far that connection would go.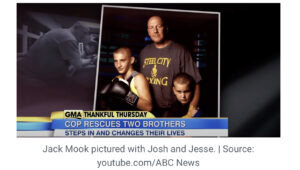 One day, the boys suddenly stopped attending classes. Jack was immediately concerned – and went out to look for them.
What he discovered would leave him shocked – but it is also that discovery that would change every single one of their lives.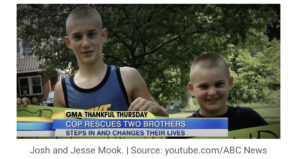 Horrific Discovery
Jack eventually managed to locate the boys, and it's then that their horrible predicament became clear to the tough army veteran.
Older brother Joshua opened up and for the first time, really explained his and his brother's situation to Jack. While Jack was aware that the vast majority of the students attending the local gym came from difficult backgrounds, he was shocked to discover just how bad these two young boys had it.
The two had grown up in extreme poverty and been rejected by their own parents. They ended up in foster care with relatives, but sadly, the latter were both neglectful and abusive.
"He [Jack] was asking me about it and then I just cried," Joshua said.
Their lives were a true nightmare, with no clothes to wear, no beds to sleep in, and certainly no parent to depend on or trust.
"He says, 'Coach, we have to sleep on the floor and there's nothing but dog feces on the floor," Jack recounted. "I'm trying to sleep my life away. I go to sleep as early as possible so I can sleep until I have to go back to school"
Jack's heart broke.
"I thought, they're just special kids. They deserve to have help," he said.
Game Changer
Joshua and Jessee's story shook Jack to his core, and the detective suddenly realized that he had to take action.
So, he took matters into his own hands: Thanks to his position and rank, he managed to call in a few favors in order to give the two boys a new home: his own.
"He goes, 'You're coming home with me now,'" said Joshua. "That was one of the greatest moments in my life so far that I could think of."
Jack quickly and suddenly went from committed bachelor, to foster dad of two. But that's not where the story ends.
A (BIG) Step Further
After being fostered by their coach Jack, the two brothers saw a completely different side to him, and their mutual fondness of each other just grew and grew.
By 2014, things were clear in Jack's mind. He wanted to make these boys his own, forever. He began filing the paperwork to adopt Josh and Jessee.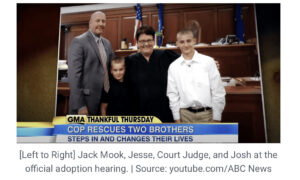 Joshua and Jessee soon both became Mooks and at last, acquired the stability and love they had always deserved.
"He's still Coach, but we know he's Dad, too. Most of all, he's a savior. He's my role model," Joshua said.
A Whole New Life
The incredible heartwarming story takes yet another turn, as soon yet another void in Jack's life would be filled.
Jack's adoption story made its way to CBS News, after which time the news network reportedly received loads of messages from women hoping to get in touch with Jack, clearly interested in him romantically.
While Mary, pictured below, wasn't one of these women, she confesses that she made sure to "end up" at a bar where she knew Jack would be present.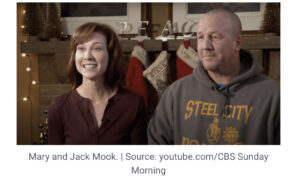 The two hit it off and soon enough, committed bachelor went from foster dad, to dad… to husband! Mary and Jack tied the knot in the summer of 2014, and with three of her own children, merged into one large, beautiful blended family with 5 children.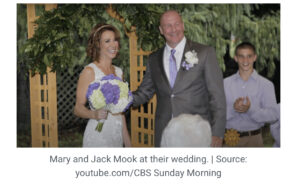 "I thought being single was fun because you don't have any responsibilities," Jack said. "But when you're single, you don't realize what you're missing. I'm glad I let her break through that barrier and take me away from that life."
This story just goes to show how an open heart can change everything. The two formerly poverty-stricken boys suffering through life are now living their best life, full of love and trust – all thanks to one man's giant heart.
For Jack, the rewards are endless and his former life of solitude has reached new levels of fulfilment he never saw coming!
Please share this wonderful story with all your family and friends if it touched your heart, too.