How do you celebrate a wedding anniversary that so few people reach?
If you're the Abdons you go to your favorite restaurant, Chick-fil-A!
Fred and Betty Abdon of Pennsylvania recently celebrated their 72nd wedding anniversary and rather than throw a party or enjoy an expensive meal together, the couple visited their favorite local fast food restaurant.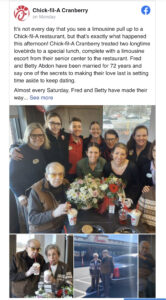 It only made sense for the couple to celebrate the joyful day at Chick-fil-A, a place they frequently visit.
Nearly every Saturday Fred and Betty go to the drive-thru at the Cranberry Township location where they order their favorite meal, find a parking spot, and then enjoy the food and each other's company.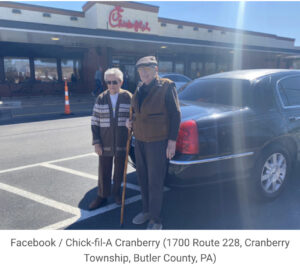 On the day of their anniversary, the couple was surprised with a limousine escort from their senior center to the restaurant, and that's not all.
When they arrived the surprises kept coming.
The Abdons were invited inside the restaurant where a singing quartet entertained them as they enjoyed a complimentary meal complete with Betty's favorite Chick-fil-A Chocolate Chunk Cookies!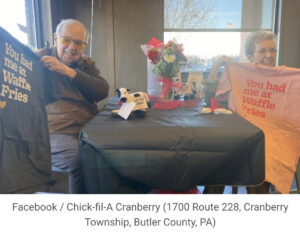 So how have they lasted more than seven decades? By regularly going out on dates! And we don't doubt more than a few of those dates have included Chick-fil-A!
A simple celebration, but one that meant so much to Fred and Betty. Happy anniversary!
Please share this story and wish this wonderful couple a happy anniversary.