Drew Barrymore is a much-loved movie star and now talk show host who is never without a smile on her face.
Around half a million people tune into the former child star's talk show each week where she welcomes guests and sometimes shares insights into her own life.
As a movie star with a legion of fans in her own right, the now 47-year-old made it big after her unforgettable appearance on the beloved family movie E.T. the Extra-Terrestrial. She was just 7 years old at the time, and as the movie was the highest grossing movie of the 1980s it made her one of the most famous child actors of all time.
After that she went on to appear in more than 50 movies including Wayne's World, Scream, Charlie's Angels, and The Wedding Singer.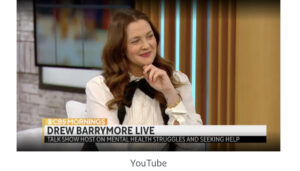 She launched The Drew Barrymore Show in September 2020, and the following year said she was taking an indefinite break from acting. Since then she has chatted with a string of Hollywood stars from Cameron Diaz to Keanu Reeves.
Recently she managed to secure a very special guest on her show, the rapper Machine Gun Kelly. Barrymore admitted to being a huge fan but also said it had taken her a while to get him on the show as he doesn't do a lot of interviews.
The 31-year-old came onto the show to talk about his new unisex nail polish line, but she was caught off guard when the rapper admitted he wasn't okay.
Talking about the upcoming interview as a guest on CBS This Morning Barrymore said it was refreshing for someone so famous to be so honest about his feelings without giving away too much information.
Happy 47th Birthday to Drew Barrymore #Scream pic.twitter.com/xUNVTktzzQ

— ?? Horror Queen Neve ?? (@HorrorQueenNeve) February 22, 2022
Kelly had admitted to Barrymore that he doesn't always feel happy but feels pressure to smile and pretend to be happy for his fans.
"I'm kind of sick of smiling on days when I don't feel like smiling, and I feel like this odd pressure because I don't want my fans to think that I'm taking something for granted." he said while giving the actress a manicure.
"A lot of what I do is for other people, and I haven't given myself the time to just accept that it's ok to not be ok."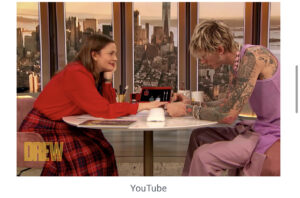 Barrymore could have moved the conversation onto something more lighthearted but instead she felt comfortable enough to reveal a tough moment in her life.
When she was going through a "painful divorce," she went to Utah to "talk to some people about how to pull myself out of a hole. And I had these two kids that I had to fight for and I needed help."
She also made a surprising admission during her CBS interview.
"I'm going to say something for the first time in a long time. I have not had a drink of alcohol in two and a half years." She went on to explain, "It was something that I realized just did not serve me in my life."
She added, "When you are stuck in a pattern or if you are going through things and you not only admit them out loud, but you force yourself to say, 'I'm willing to make big changes—I think we all think we're very weak when we don't make those changes."
"When you break that cycle, the empowerment that comes out of it. I'm not weak. I'm actually strong. I've proven to myself that I am capable of change. I believe people are capable of big changes."
She said her journey to sobriety was done "quietly and privately." She didn't get professional help. She decided to do it on her own. She explained, "Now it's been long enough that I'm in a lifestyle where I know is really working on a high road for my little journey. And there's so much peace finally being had where there were demons."
Barrymore said the moment had made her more hopeful that we could get past the idea of perfection and have more honest and vulnerable conversations.
She asked: "Can we get to conversations that are funny and full of insight, but take back the layers so we can get to the humanity of what we're all going through and help each other through it?"
Would you rather more celebrities were honest about their struggles? Post your comments on our Facebook page and share this story.