Love knows no age, and the greatest love stories don't take place in Hollywood but in the lives of ordinary couples who have an extraordinary passion for each other.
The couple you're soon to meet, recently went public with their heartwarming and somewhat different love story.
Lately, Cheryl and Quran's relationship has raised many eyebrows, and you might guess why. For example, the 61-year-old Cheryl is constantly mistaken for being the grandmother of 24-year-old Quran McCain.
But that's far from the truth. The couple first met at Dairy Queen.
Quaran worked at the ice cream and fast-food restaurant – Cheryl's son was his boss. When he started, Quran was just 15 years old, and he didn't pay any attention to Cheryl, who used to visit his son to grab a snack or an ice cream.
"We didn't think much of each other – she drove a baby blue Carrera and that's the only reason I noticed her," Quran told The Sun.
When Quran left his job, the two lost contact. But in 2020, they met again when Quran went to a convenience store where Cheryl was working.
Quran and Cheryl got closer and closer, and eventually, their relationship developed into something romantic.
"We connected on a spiritual level. No matter the situation, we just have a certain vibe that connects anytime we are around each other. We went on a date and I told her feel like I'm catching feelings," Quran says.
First, they did everything to stay friends, but their true feelings couldn't be denied or hidden. Then, after a while, they just let go and fell in love.
And even though Quran is younger than Cheryl's children, they say they have a wonderful sex life and good chemistry.
"There's just something between him and I that I never thought we would be together like this, he's just an amazing person," Cheryl says.
"There's a different type of chemistry with him even though he's younger; we have a lot of chemistry because of the things we've been through, and it pulls us closer together."
Many believe that Cheryl is Quran's older relative and say that she looks like his grandmother. In addition, they get a lot of hateful comments on social media that hurt them.
"I think the biggest misconception is that I'm using her or waiting to be put in the will," Quran said.
On several occasions, Cheryl has received so much hatred on her social media that she has deleted her accounts.
Even within the family, it has been challenging. In most heterosexual couples, the man is older than the woman. It is rare to see a couple where the woman is significantly older than the man.
Cheryl, a grandma of 17, is only a few years younger than Quran's grandmother and Quran is younger than Cheryl's children.
Some family members couldn't accept the couple's relationship at first, but the more they realized that they were happy together, the more they couldn't do anything but accept it.
It always gets a little more complicated when two people with a significant age difference fall in love. For example, one might just have begun a career while the other may be retired.
Despite all comments and opinions, Quran and Cheryl try to look positively at life.
On July 31, 2021, they got engaged and then married.
Today, the two are very active on social media and regularly post pictures to update their followers. As far as I can see, Quran and Cheryl seem very much in love and happy together!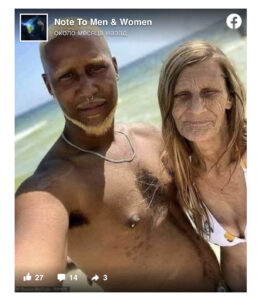 It may seem odd to some, but in the end, any kind of love between people is a good and beautiful thing. After all, there is already more than enough hatred in the world. So let's wish this lovely couple a happy future!