One of the true living legends of music is celebrating a milestone birthday today: Loretta Lynn, the iconic country singer whose life story inspired her signature song "Coal Miner's Daughter" and an Oscar-winning biopic of the same name, is now 90 years old!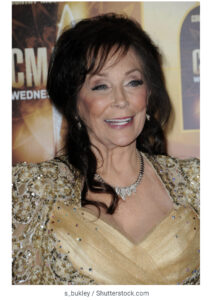 After decades in the music industry, Loretta Lynn is still going strong, and now the country music industry is going all-out to celebrate one of their most enduring legends.
In honor of Loretta Lynn's 90th birthday, look back on her truly incredible career and see what she's up to today.
Early life and marriage
Lynn was born April 14, 1932 in Butcher Hollow, Kentucky, the second oldest of eight children. Her father was a coal miner, who died of black lung disease at 52.
She married her first husband Oliver "Doolittle" Lynn when she was just 15 years old and he was 21. She had four children all before the age of 20, and worked to help support her family.
Their complicated marriage is one of the most famous in music.
"I married Doo when I wasn't but a child, and he was my life from that day on," Lynn later wrote in her 2002 memoir Still Woman Enough. "But as important as my youth and upbringing was, there's something else that made me stick to Doo. He thought I was something special, more special than anyone else in the world, and never let me forget it. That belief would be hard to shove out the door. Doo was my security, my safety net."
"Doo was a good man and a hard worker. But he was an alcoholic, and it affected our marriage all the way through."
She remained married to Doolittle Lynn for 48 years until his death in 1996.
While her early life was often tough, and would inspire much of her later songwriting, she began to pursue a career in music with her husband's support, teaching herself guitar and playing at local venues.
In 1960, she recorded her first record, "I'm a Honky Tonk Girl."
Success as a country artist
That year also saw her first performance at the Grand Ole Opry. Mentors in the Nashville country music scene, most notably Patsy Cline, helped her career take off.
Sadly, Cline died in a plane crash in 1963, a tragedy that devastated her: "I met her, and it was just like she was my sister," Lynn told the New York Post. "It was like we'd been together forever."
Lynn's 1962 song "Success" became her first Top 10 hit on the country charts, and her first album Loretta Lynn Sings reached #2 on the country album chart.
She had a string of successful songs throughout the 1960s, which often dealt with topics considered taboo in country music at the time. Her song "Dear Uncle Sam" was critical of the Vietnam War, and "The Pill" tackled the controversial topic of birth control.
These songs were often banned from the radio, but it didn't stop Lynn from becoming one of the major female stars of country music.
"Loretta Lynn has more banned songs than any other country artist," the artist's granddaughter Tayla Lynn recently told NewsNation. "They tried to cancel her before cancel culture was a thing."
'Coal Miner's Daughter'
Lynn then recorded some of her most famous songs, including "You Ain't Woman Enough" and "Don't Come Home a Drinkin' (with Lovin' on Your Mind)," which reached #1 on the charts.
55 years ago today I put this song out and it became a #1 hit. Some advice never gets old and, boys, I recommend you keep this one in mind still today! pic.twitter.com/Jw15F1IUqg

— Loretta Lynn (@LorettaLynn) February 10, 2022
But it was her autobiographical 1970 hit "Coal Miner's Daughter" that remains her signature song.
The song also lent its title to her bestselling 1976 autobiography, which made Lynn the first country artist to top the New York Times Best Seller list, and was adapted into a hit film in 1980.
The film brought Lynn's life story to a wide audience, and was nominated for 7 Academy Awards, winning Sissy Spacek the Oscar for Best Actress for her performance as Lynn.
This was a big day for me in 1980! The movie "Coal Miner's Daughter" debuted and, oh man, did we have a great time. It was a bigger hit than I ever dreamed, but the best thing from it has been my enduring friendship with Sissy Spacek. She's the best. #oldfriends #movienight #CMD pic.twitter.com/ZEwjRyDfXO

— Loretta Lynn (@LorettaLynn) March 7, 2022
Still going strong
After 60 years of recording music, Lynn is still going strong and is a certified country legend.
She has continued to record music, collaborating with fellow country artists like Willie Nelson to more contemporary artists like Jack White.
She has one three Grammy Awards and was inducted to the Country Music Hall of Fame in 1988. In received the Presidential Medal of Freedom from Barack Obama in 2013.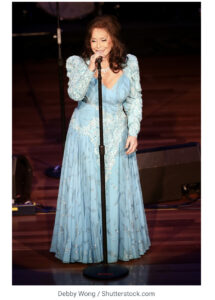 Lynn suffered a stroke in 2018 and broke her hip in 2018, but has bounced back to record more music. Still, she's often been the subject of rumors about her declining health: a report in 2019 said she was in a nursing home and near-death, which she happily disputed.
"Well, through the years they've said I'm broke, homeless, cheating, drinking, gone crazy, terminally ill, and even dead!" she wrote on Facebook. "Poor things can't ever get it right."
In fact, despite her old age, Lynn continues to record music, and released her milestone 50th studio album last year, just before her 89th birthday.
Still Woman Enough, a mixture of classic songs and new material, was released on March 19, to positive reviews. It peaked at #9 on the US country albums chart.
The album features vocal performances by fellow country stars like Reba McEntire and Carrie Underwood.
Now on her milestone 90th birthday, Lynn still shows no signs of stopping her incredible music career any time soon.
"She's still up over there on that hill, writing music," granddaughter Tayla said, adding that she's always been modest about her success.
"She is so humble," she said. "But she's also one of the wisest women I've ever met. So I think she probably has an inkling that she's made a move or two in the music business."
It would certainly be clear from the outpouring of love Lynn receives from her fellow music artists, especially in the country music industry.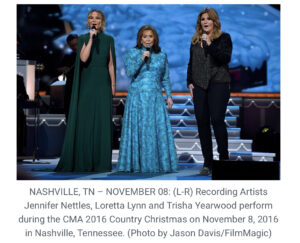 Last year catastrophic flooding swept through Lynn's home state of Tennessee, leading to the death of her longtime ranch foreman. Lynn was devastated, but her fellow country stars, including Dolly Parton and Reba McEntire, arranged a benefit concert called Loretta Lynn's Friends: Hometown Rising to rebuild homes and businesses in the area.
Loretta's 90th birthday
And in honor of her birthday, the Grand Ole Opry will be holding a special tribute concert tonight, honoring one of the Opry's "most beloved and celebrated members."
The concert will feature performances from country artists like Gatlin Brothers, Elizabeth Cook, and Maggie Rose. It will also be a big family affair, as two of Lynn's family members will take the stage: her sister, country singer Crystal Gayle, and her granddaughter Tayla Lynn.
I can't wait for this show. I know it's going to be amazing….and surely that's a typo, I'm not 90, am I!? #justanumber #ageishowyoufeel #ifeeIyoung #stillwomanenough #dontneedyourrockingchair #familytradition #mygirlontheopry #fullcircle #countryinourgenes #opryproud pic.twitter.com/HvruHDRAD2

— Loretta Lynn (@LorettaLynn) April 9, 2022
Tayla is making her Opry debut — nearly 62 years after her grandmother's — performing with Tre Twitty, the grandson of Conway Twitty, the country star who was one of Loretta Lynn's most frequent collaborators. Conway Twitty died in 1993.
Join us in sending @LorettaLynn some birthday love today! Happy birthday, Loretta! pic.twitter.com/cvaOtMSTLh

— Grand Ole Opry (@opry) April 14, 2022
Happy birthday to the legendary Loretta Lynn! Still going strong at 90 — wishing her all the best and many happy years to come!
Share this story with your favorite memories of Loretta Lynn!