We're all born equal in this world, and ideally we'd all have the same opportunities and the same love and compassion shown to us in order to help us grow.
Sadly, our individual journeys are just that: individual. Some of us experience nothing but kindness growing up. Others face extraordinary trials and tribulations from an early age. Others still go through things that no child should.
Chris Tomlinson is in the latter category. Now a grown man with two daughters, Chris has walked a path stricken with pain and suffering. Fortunately, his faith is strong indeed, and has stood the test of time where it could so easily have faltered in the face of adversity.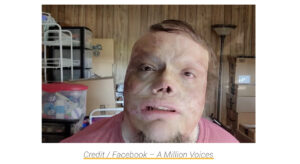 According to The Epoch Times, Chris was still very young when he was the victim of a tragic accident.
Before he had turned even two years old, Chris slipped away from his parents and wandered into a shed in his family's backyard. There, the curious toddler accidentally knocked over a can of gasoline and covered himself in gasoline.
When the pilot light on the hot water heater turned on, it ignited the fuel, thereby setting Chris on fire. The young boy suffered 98% burns to his body and was left in unimaginable pain.
His mother rushed him to the hospital, where doctors gave Chris just a 1% chance of surviving through the night.
With his family by his side, though, the brave little boy managed to beat the overwhelming odds and pull through.
Understandably, his life was changed forever.
He spent a lot of the rest of his childhood in and out of hospitals, undergoing more than 200 surgeries to try and repair his body.
As per GodUpdates, Chris said: "I always found the positivity in everything. I had this big old smile on my face because I knew God was with me… It wasn't just by my own strength, it was God who was there for me the whole time."
The various difficulties and hardships followed him into adulthood, where Chris was told that it was very unlikely that he would ever be able to have children.
Once again, though, Chris proved them wrong, welcoming not just one, but two daughters into the world. Due to his injuries – and the resulting differences in his appearance and physical appearances – holding down a steady job has proven extremely difficult at times.
As a result, Chris and his daughters have even found themselves homeless. Through it all, though, Chris refused to abandon his faith in God.
A few years ago, the father-of-two took to the internet looking to begin a conversation about his myriad struggles. His aim was not to seek pity or help from anyone, but rather to be a catalyst for discussion regarding the way people with disabilities are seen and treated in today's world.
The reaction was more than he could have anticipated, and the generosity of strangers online helped to bring Chris back to his feet when he was in a dark place.
Sadly, Chris's wife of 14 years walked out on him and the girls soon after, leaving him to raise them as a single dad and once again thrusting him into an arena of uncertainty.
"It's horrible," Chris said of his wife's departure. "I'd rather be burned all over again than to experience that pain."
Somewhat tellingly, however, it was when he was back in the pits of despair that he found his strength once more.
"I looked at my kids and they were smiling at me and they hugged me," he said. "And I was like, 'This is my purpose. This is what I need to do — they need me.'"
It was while attending a funeral for a relative that Chris had arguably his greatest epiphany of them all. He was in a car accident which served as a wake-up call, prompting him to believe that he should move back to his hometown of Plant City, Florida to raise his daughters.
Since the move, he still faces strange stares from passersby, and will forever live with the fact that he looks different from those around him due to the horrific accident when he was still but a toddler.
For Chris, though, God might work in mysterious ways, but he has a plan for us all, and it's that message that he is now trying to spread.
"It's a big passion of mine to get my story out there. Again, not for me but to bring the glory to God," Chris explained.
"Because a lot of people think God's not working anymore — God doesn't do miracles. God does miracles every second every day. All you got to do is look around you."
I don't know about you, but Chris's story sure is an inspiring one. To think that he's faced so much pain and strife and still works hard to encourage others is simply amazing.
Please, share this article on Facebook if you, like us, are in awe of Chris's resolve and spirit.