It is always hard to come to terms with a loved one's death. But in the case of a young death, it hurts all the more. The pain one feels when a life is taken too soon is a different kind of hurt, and one which takes much longer to accept.
It was a typical Saturday morning for the Gagnier family in Eagle Moutain, Utah, as they all woke up and anticipated a day filled with breakfast and quality time with one another. But all of that changed within a few moments.
Logan's older sister was sent to wake up the sleeping 9-year-old so the family could start their day. Logan had spent his Friday playing with his cousins and spending time with his grandparents. He also spent the day eating his favorite snacks and face timing his older brother Ryan, who is serving at a Latter-day Saint mission in another state.
The family presumed the young boy was sleeping in because he went to sleep really late the night before and was probably exhausted.
But when his sister tried waking Logan, she found him completely unresponsive. The 9-year-old had passed away earlier that morning in his sleep.
Logan Gagnier was a perfectly healthy 9-year-old with no health problems that the family knew about. The family has displayed immense strength in this difficult time. While they do not have answers to explain Logan's sudden and unexpected passing, they have accepted it and are trying to be strong. They intend to keep Logan's memory alive and honor it in every way they can.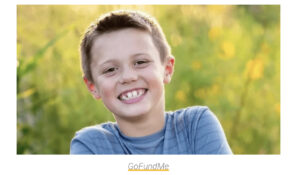 While alive, Logan loved to be active and was a big fan of the BYU football team. Just earlier this year, he had shifted from flag football to tackle. He had hoped to make the team one day.
Now all that is left of Logan Gagnier are memories his family and friends carry. Logan's school Mountain Trails Elementary covered its grounds with orange and blue ribbons; Logan's favorite colors.
Logan was always honored by his favorite team BYU at one of their practices as well.
The entire family has been devastated by the loss of Logan Gagnier but takes comfort in the fact that he is in a better place. They have asked everyone to pray for them during this difficult time.
Those near and dear to the family have also set up a GoFundMe page to help with Logan's funeral expenses.
What a horrible tragedy for a family to go through. Please join us in praying for the Gagnier family. Keep the Gagnier family in your thoughts.