Roseanne Barr has had a charmed career but in her personal life, she has faced a lot of struggles. The actress has always battled with her weight but at almost 70 years old, she is the healthiest she has ever been!
When her extremely popular television show "Roseanne," was coming to an end in 1997, the actress was the heaviest she had ever been. The actress at that time weighed 350 pounds.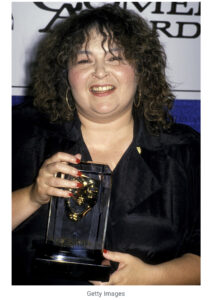 Perhaps the realization that she was at her heaviest is what prompted the actress to undergo weight loss surgery. After that first surgery, the actress routinely went under the knife to get procedures done. And despite medical intervention, she has had to follow a strict diet and lifestyle change in order to maintain her new figure.
The actress underwent gastric bypass surgery which resulted in her losing 80 pounds. But after her surgery, she had loose skin that she had to tackle with the help of a tummy tuck. When people publicly commented on her new trimmer figure, she quipped, "I had my entire digestive system removed, so I should look thinner!"
She also had her nose reshaped to look thinner and also had a breast reduction surgery.
In a 2003 interview, she commented that she would like to have more procedures done but was mindful of her age and did not want to risk complications. She also mentioned steadily believing that people should be able to get as much work done on their bodies as they wanted.
In 2006, she gained some of the weight back but still said she felt great.
But in 2014, she was back to her usual trim self. At a public event, she shared that her weight loss was due to, "moving more and eating less."
When she attended Playfest in the same year, the actress wore a black biker jacket coupled with an oversized white t-shirt and black pants. She added matching sneakers to complete the look.
In an appearance on the Today show, the actress revealed how she had shed her weight and kept it at bay. She credited her success to a revolutionary diet and lifestyle change. She said, "I just want to keep getting healthy and let go of excess baggage to carry around, so I'm lighter on my feet and in my life."
Another thing that has helped her in her efforts to keep trim is incorporating vegan food into her diet. The actress started eating a more plant-based diet after she moved to her Macadamia nut farm in Hawaii.
She spoke in an interview to Oprah Winfrey, "I'm a farmer now, and it's fantastic. My goal is to be totally self-sufficient and grow everything I eat."
She has also on occasion talked about, how she and her family are interested in animal husbandry, keeping their own animals, and planting various crops.
In 2018, the actress made it back on everyone's television screens with a reboot of her hit show Roseanne. The show broke network records for ABC and brought in millions in revenue.
But her success was short-lived as the actress landed herself in a controversy. Her offensive tweets against, Valerie Jarett, a former senior adviser in the Obama administration landed her in a lot of trouble which eventually led to her show being canceled.
Apart from her show being canceled she faced a lot of criticism at the hands of her peers and decided to lay low for a while till public opinion was able to change.
The almost seventy-year-old actress credits her weight loss and new healthy lifestyle to her immense love for gardening.
Some fans think that she has lost too much weight and needs to start eating again. But mostly her fans are incredibly encouraging of her new journey towards weight loss and applaud her for her dedication to keeping herself healthy.
What do you think about Roseanne's weight loss? Let us know in the comments.
Share Roseanne's inspiring journey towards a healthy lifestyle with your friends and family!