As officials investigate the how and why of the horrific mass shooting at Robb Elementary School in Uvalde, Texas, more victims are being named.
The latest to be named is Irma Garcia, who was killed alongside 19 children and her fellow educator, Eva Mireles. Both women taught in the same classroom and are said to have shielded students in their final moments.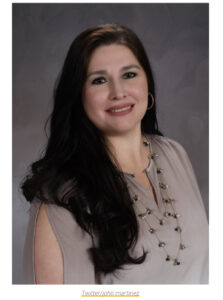 NBC News reported that Garcia's son, Christian Garcia, confirmed his mother was a victim of the horrific tragedy.
Garcia had been a teacher at Robb Elementary for 23 years and served as a co-teacher with Mireles for the past five years, according to her school profile.
She was a mother of four, with her eldest son in the process of completing Marine boot camp and her youngest daughter set to move on from 7th grade.
In 2019 she was recognized for her excellence in teaching when she was nominated as one of 19 finalists for the 2018-19 Trinity Prize for Excellence in Teaching.
Garcia's nephews also confirmed the devastating news on social media, calling her a hero.
My tia did not make it, she sacrificed herself protecting the kids in her classroom, i beg of you to keep my family including all of her family in y'all's prayers , IRMA GARCIA IS HER NAME and she died a HERO. she was loved by many and will truly be missed.❤️‍? pic.twitter.com/zM54TbooZZ

— Joey.mtz (@Joeymtz4) May 25, 2022
"IRMA GARCIA IS HER NAME and she died a HERO."
A GoFundMe has been set up to help the family with any expenses.
As of publication, 17 of the 19 children murdered in the mass shooting have been identified.
SO SAD ?? These are 17 of the 19 children identified by loved ones from Tuesday's tragic school shooting in Uvalde, Texas.

Latest –>https://t.co/tO7V0IxRgi pic.twitter.com/MnxG8ikuqh

— 7News DC (@7NewsDC) May 25, 2022
Enough is enough. We need change, and we need it now.
May all the victims of this horrible tragedy rest in peace.