Jimmy Carter has celebrated many milestones and awe-inspiring achievements throughout his long life, now he can add the longest-married presidential couple to the list.
The former U.S. president has been married to his wife Rosalynn Carter for 75 years.
Together, they have 4 children, 12 grandchildren and 13 great-grandchildren.
Jimmy Carter was born in 1924 and was raised by his businessman father and nurse mother in and around Plains, Georgia.
Back in the mid-1920s, about 600 people lived in the small town. One of those people was Rosalynn Smith.
Jimmy and Rosalynn's love story would go down in history, and their journey began over 90 years ago. In fact, Jimmy Carter can still recall the day his wife was born. He was only three years old and his family lived next door to Rosalynn's.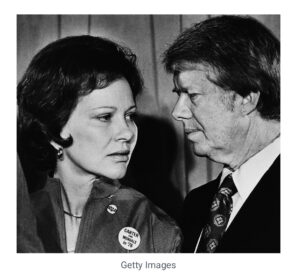 Since Jimmy's mother was a nurse, she helped deliver Rosalynn on August 18, 1927. One day after Rosalynn was born, Jimmy's mother brought him to see the newborn baby.
Little did anyone know that the two would get married.
In an interview with Washington Post, Rosalynn revealed that Jimmy "looked through the cradle bars and saw [her]."
As Rosalynn got older and became friends with the neighborhood kids, she became friendly with Ruth Carter, Jimmy's sister.
When the Georgia couple married Jimmy was 21 years old and Rosalynn Smith was 18.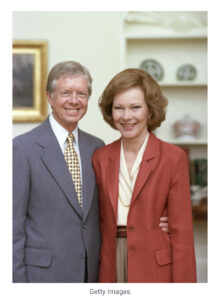 Jimmy, who recently celebrated his 97th birthday, exchanged their vows on July 7, 1946, in their hometown of Plains, Georgia, where the two nonagenarians still live.
When the couple met, Jimmy was on break from the Naval Academy and was introduced to Rosalynn as a friend of his sister's. Jimmy said he immediately felt compatible with Rosalynn and asked her on a date to see a movie.
Rosalynn was also thrilled, she thought Jimmy was so handsome after seeing a picture of him in his Annapolis uniform.
She remembered Ruth kept a photo of her brother on her bedroom wall, and Rosalynn "fell in love with that picture."
"Mother always said I married him because of his uniform," she said.
Jimmy said they rode in the rumble seat of a Ford pickup and that he kissed Rosalynn on that first date. He still remembers that moment clearly, he said.
"She was beautiful and innocent, and there was a resonance," he told People.
After their first date, Jimmy was convinced that he had met the right one, which he also told his own mother straight away.
"I knew that she was quiet, she was extremely intelligent … beautiful," Jimmy told Oprah There was just something about her that was irresistible."
The beginning of their marriage found them moving around the country as Jimmy was assigned deployments in either the Atlantic or Pacific fleets. And while one may think the spouse of someone in the United States Navy may not like the constant moving, Rosalynn didn't mind at all.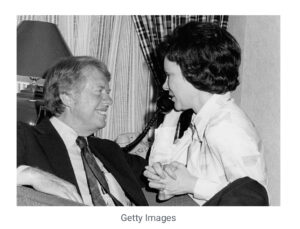 "I had been self-sufficient and independent from my mother and Jimmy's mother," she told The New York Times.
So when Jimmy told her he was giving up his career in the Navy so they could grow their family in Plains, Georgia, she was annoyed.
It was a move – making tough family decisions – Jimmy said he regretted.
But their disagreements never lasted long.
In 2012, Jimmy joked that the couple's worst decision they ever made was when they wrote a book together.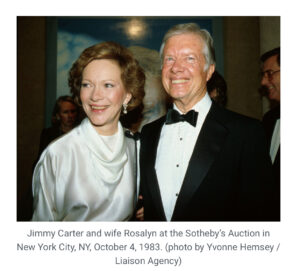 Jimmy Carter and wife Rosalyn at the Sotheby's Auction in New York City, NY, October 4, 1983. (photo by Yvonne Hemsey / Liaison Agency)
"It's the worst problem we've ever had since we've been married," Jimmy joked to Piers Morgan.
The 39th president credits his long life to his wife.
"It's hard to live until you're 95 years old," he told People. "I think the best explanation for that is to marry the best spouse: someone who will take care of you and engage and do things to challenge you and keep you alive and interested in life."
The couple has four children together, three sons and a daughter, 14 years younger than their third son, who spent part of her youth in the White House.
While on the campaign trail leading up to his presidential election in 1977 he referred to Rosalynn as his "secret weapon."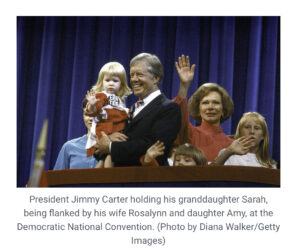 They also accept that disagreements are inevitable in marriage but according to the book "What Makes a Marriage Last" they give each other plenty of space to do the things they want to do.
"We give each other plenty of space to do our own things. And we try to find things we like to do together, and we try to concentrate on them," Jimmy said.
What they do agree on is the need to help others and devote much of their time to support a number of different causes from mental health to human rights.
Jimmy whose awards include the United Nations Human Rights Prize and the Nobel Peace Prize, set up the The Carter Center with Rosalynn which funds a number of health and peace programs.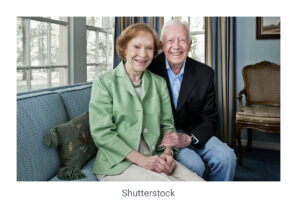 Despite being in their 90s this couple never stop giving and helping, they are such an inspiration.
Please share to wish them a Happy Anniversary!