Kevin Costner may have established himself as a screen legend with a string of award-winning movies, but he doesn't live the A-list celebrity life most of us would expect.
Behind the scenes, the Field of Dreams star lives a life of peace and quiet on an idyllic 160-acre property in Aspen, Colorado.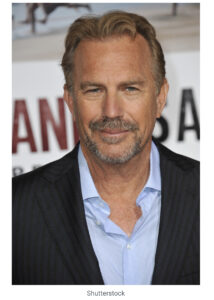 Most actors ensure they live in the center of the action, whether it be New York or Los Angeles or other media-based centers around the world, grabbing every opportunity to appear on the red carpet, yet Costner chooses to live in the middle of nowhere.
Albeit one of America's wealthiest zip codes in Colorado's Rocky Mountains, there certainly isn't any scrimping on luxury here but the 66-year-old actor has centered himself away from the hustle and bustle of Hollywood life.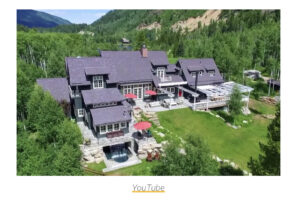 Mansions & Millionaires: Inside Kevin Costner's Aspen Compound
The California-born star made his fame starring in the 1987 movie The Untouchables as federal agent Eliot Ness and followed it up with the lead role in the thriller No Way Out, the same year.
He secured his place as an A-list movie star with movies such as Bull Durham, Field of Dreams, and the epic Dances with Wolves which he directed and starred in and was produced by his own production company Tig Productions. The movie was nominated for 12 Academy Awards and won seven including two for Costner as Best Picture and Best Director.
He went on to star in box office hits such as Robin Hood: Prince of Thieves, the Oliver Stone-directed JFK and The Bodyguard alongside legendary singer Whitney Houston.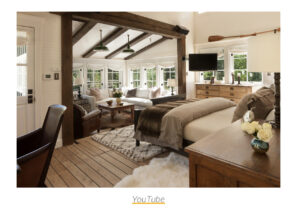 Kevin Costner's Colorado Ranch Has a Private Ice Rink, Lake, and Dog Sledding — and You Can Rent It All for $36,000 a Night | Travel + Leisure
He has never left our screens since and it's fair to say the TV and film projects he touches are successful. Yet when filming is over he escapes to his breathtaking property he shares with wife Christine Baumgartner and their three children, Cayden, Hayes, and Grace.
Costner's serene and green estate is nicknamed the "Aspen Independence Ranch" and is set on 160 acres with room for around 34 guests, you can even rent it – for $250,000 a week.
With two lakes providing trout for fishing all year round it's set along the banks of the Roaring Fork River that cascades the valley and has three separate homes — the main house, a lake house, and a river house.
The main house features six bedrooms, with six full and two half bathrooms. It also includes entertainment rooms, dining rooms, living areas, a chef-style kitchen, and stunning outdoor spaces.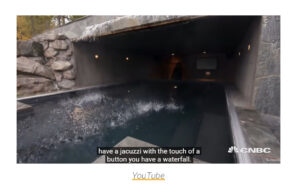 In the master bedroom is the unusual and extremely glamorous feature of a trap door at the foot of the bed which reveals a staircase leading to an oversized hot tub overlooking the river and rocky mountains. And if that wasn't enough, one press of a button and a waterfall emerges.
According to Amy Mottier, a Coldwell banker and a family friend, the home has a welcoming and warm, homey feel to it.
While the other two houses on the ranch are much smaller, they are not any less significant with the smallest of the three being a river house which houses up to 6 people and the lake house with room for up to 12 people.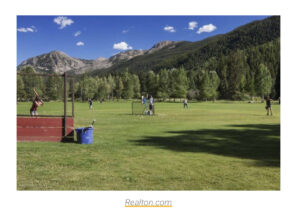 Rent Kevin Costner's Dreamy Aspen Compound for $30K a Night
Realton.com
While the river house is the smallest it's actually the Costner family's favorite spot on the property and serves as the perfect hangout offering breathtaking views of the snowcapped mountains.
The three properties are set within vast grounds with sledding hills, outside lights and the opportunity to enjoy a wide range of watersports on the two lakes including canoeing, paddleboarding, and kayaking.
Known for his portrayal of Ray Kinsella, a farmer who builds a baseball field in his cornfield that attracts the ghosts of baseball legends in Field of Dreams, Costner's love for baseball extends to his own backyard.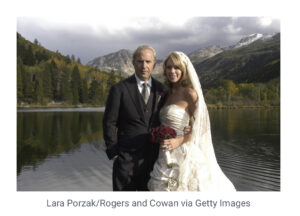 Kevin Costner and Christine Baumgartner during their 2004 wedding in Colorado
Lara Porzak/Rogers and Cowan via Getty Images
Unlike the baseball field from Field of Dreams, his is not surrounded by cornfields, but instead fitted with stadium lighting and music.
Costner himself chose the idyllic location of his Aspen property to marry his second wife Christine.
The two got together in 1999 and dated for four years until a disagreement over having children in 2003 led to a split. Costner already had four children, three with his first wife Cindy Silva who he met in college and spent 16 years with and one with ex-girlfriend Bridget Rooney.
But Costner got over his fears of having more children and the two found their way back to each other, marrying in 2004. The couple have three children together.
I hope all his children get to enjoy this amazing property! It's always fun to see how the other half lives.
Please share this story with all the Kevin Costner fans you know.