Hourari Benkada, 27, was heading to work Tuesday morning when his commute from Brooklyn to midtown Manhattan left him and his fellow commuters fighting for their lives.
As he fought for his own, he also protected those around him, including a pregnant woman.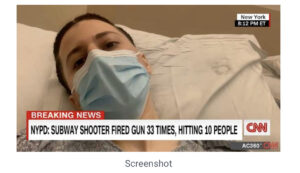 Benkada was one of the 29 people who were injured when a gunman detonated a smoke grenade and opened fire on the N train in Brooklyn. The gunman, who has been identified by police as Frank James and has since been arrested as of Wednesday afternoon, reportedly boarded the subway shortly before 8:30 a.m.
He waited until the train left the 59th Street station and then threw two smoke grenades. Moments later he opened fire with a 9-mm. Glock handgun. He got off 33 shots.
Commuters, like Benkada desperately tried to escape the smoke-filled car.
The 27-year-old explained to CNN that he was sitting next to the suspect, who was dressed in an MTA vest and carried a duffle bag with wheels.
Once James threw the smoke grenade, Benkada jumped into action.
BREAKING: The man suspected of shooting 10 people on a Brooklyn subway train Tuesday has been arrested, law enforcement officials tell @AP.

The rush-hour shooting injured 23; 10 were hit by gunfire. pic.twitter.com/nkaL1iXasi

— AJ+ (@ajplus) April 13, 2022
"This pregnant woman was in front of me. I was trying to help her. I didn't know if there were shots at first. I just thought it was a black smoke bomb," he told CNN.
"She said 'I'm pregnant with a baby.' I hugged her and then the bum-rush continued," he said. "I got pushed and that's when I got shot in the back of my knee."
Benkada was one of 10 people who were hit by gunfire.
Even though he was experiencing the "worst pain of my entire life," Benkada was focused on protecting the pregnant woman.
"I seen she had a belly … And when she seen the smoke she said 'Oh my god I'm pregnant.' That's when I gave her a hug."
Once the train reached its next stop, people spilled out of the cars and those who were uninjured ran out of the station while those who had been wounded were tended to by fellow New Yorkers who had stayed behind to administer first aid.
On Wednesday, the NYPD arrested Frank James in connection with the Brooklyn subway shooting. The 62-year-old was arrested after officials received a tip on their Crime Stoppers hotline.
According to WABC, James will be charged under a federal statute, and he will also face charges from the federal government.
While it is uplifting that every day citizens help one another, the violence MUST stop.