In 2003, Christopher Bennett was at his stepfather's home when he made a decision that would forever change the course of his life. Bennett, who was 18 at the time, heard his little sister crying in the other room. When he broke into it, he found his stepfather, Vincent McDorman, on top of his then 6-year-old half-sister Cassandra "Cassie" McDorman. He was molesting her.
Blinded by rage, Christopher aimed a gun at Vincent's head and ended up shooting him fatally. "He didn't go there planning to shoot McDorman, he went there and he heard his baby sister's cries. And he did what I would say probably 99.9% of us would've done," explained the man's Legal Advocate, Janet Lee.
At the time, Christopher was given two options. "It was going to be a death sentence or he could take a plea deal of 1,800 years. So, he took a plea deal of 1,800 years," recalled his half-sister Victoria McDorman, according to WHSV. To avoid the death penalty, the young teenager ended up taking the plea deal and was subsequently charged with three life sentences of 600 years each.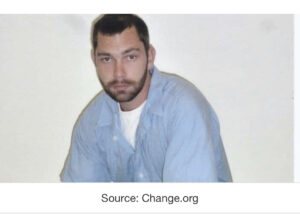 But his family, especially his sister considers him a hero who protected them from their monster father who had been abusing them since they were 3. "As a kid, the monster under my bed was my dad," said Cassie. Appearing on Dr. Phil alongside Victoria and their mother, Elizabeth "Libby" Ailstock, Cassie added, "When my dad wanted you to stay in his room that night, you would go catch fireflies with him beforehand, and that's how you knew it was your turn."
For years, Christopher has maintained that on the night of July 25, 2003, he had arrived at his place to pick up a check, Vincent had offered him in exchange for his testimony against his mother in an upcoming custody hearing. But when he overheard his little sister begging her father to stop touching her, he just had to get involved. Before leaving the place he stole his checkbook and was hence charged with murder, robbery, and breaking and entering.
"It was so quick to be determined that we weren't being abused or molested and that his reasoning wasn't correct, but they never spoke to us about it," said Victoria, who along with her family and several other supporters has been rallying to free her brother Christopher who had been behind bars for the last 19 years. "He gave his life for us to have a chance to have this because there is no way we would've survived," she added.
"He was wrong, but he's done more than enough time for it because he was just a kid too, he was 18, and he was just trying to protect his family which we were all taught to do," continued Victoria. Meanwhile, Cassie noted, "He's my hero, he's my best friend. I miss him, my kids know about him. He saved us and now it's kind of like our turn to save him. We're gonna keep going and we will, we will see Chris free."
A petition to free Christopher on Change.org has already received over 1,58,491 signatures of goal 2,00,000.
Cover image source: Change.org | Free Christopher Bennett!