Trigger Warning: This story contains details of child abuse and murder that may be disturbing to some readers.
A man who punched his baby girl to death was found dead in his jail cell. Earlier that year, in 2017, 22-year-old Liam Deane had been convicted of murdering his newborn daughter after violating shaking and assaulting her just because she "would not stop crying."
According to the Independent, the baby named Luna had been left with her father while her mother went off to sleep on July 10 in their Wakefield home. But when the baby wouldn't stop weeping, her heartless dad punched her in the face, shook, and squeezed her.
She was rushed to a hospital and placed in intensive care at Leeds infirmary but died after suffering "catastrophic brain injuries." While being investigated by police about the infant's death, Deane reportedly broke down and admitted to attacking his girl and killing her.
Dad who punched and killed his two-day-old baby daughter is found dead in his cell https://t.co/XgAuxRtYrk pic.twitter.com/KC6bVeHfPH

— Yahoo News UK (@YahooNewsUK) November 15, 2017
A month after being jailed for his horrific crimes against his helpless daughter he was killed in his cell. An inmate, 28-year-old John Westland, was eventually charged with the murder of Deane at the Leeds Magistrates' Court. Westland was reportedly flanked by police officers before being presented in front of the court. He was sent back to prison and ordered to await his appearance at Leeds Crown Court due to the serious nature of his crimes.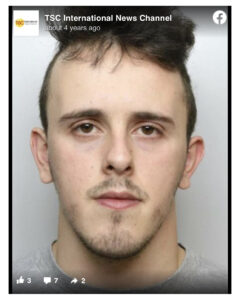 A similar incident happened back in 2020 when a 26-year-old man found himself sharing a cell with the man who raped his underage sister a few years back. Shane Goldsby battered convicted rapist Robert Munger to death at the Airway Heights Corrections Center in Washington after officials reportedly ignored his request for a different cellmate.
Goldsby originally landed in prison for stealing a Kelso police patrol car and directing the state highway patrol on a lengthy chase which ended up injuring a trooper. After having several disputes with prison guards, he transferred from one prison to the other until he finally arrived in Munger's cell. "He kept … giving me details about what happened and what he did. About the photos and videos of him doing this stuff, and it was building up," expressed the man.
Goldsby then identified his sister from one of the stories shared by Munger. "I was like, 'What the f—?'… This stuff doesn't happen. You're talking the same institution, the same unit, the same pod in the same cell as this dude. That's like hitting the jackpot in the casino seven times," he shared. He did request for a different cellmate but after his requests were denied, it became too much for him to handle.
Man gets 25 years for killing his underage sister's rapist in prison https://t.co/CfqqLVNRIN

— ?? Maureen ???? ??⛓ (@maureensmith232) August 13, 2021
Per reports, Goldsby punched Munger in the face area "about 14 times" before stomping his head at least four times in the prison's common area. He walked away after kicking the 70-year-old a few more times. Munger succumbed to his injuries later. As a result, Goldsby was handed 25 years in prison after he delivered an emotional apology to the victim's family.
"I cannot imagine what it would be like to lose a loved one in this kind of way. To his wife and his whole family, I apologize. I am so sorry and I hope you are able to heal from what I caused," he shared.