Adoption isn't easy, not even for celebrities.
When Mariska Hargitay, the queen of Law & Order: Special Victims Unit, and her husband Peter Hermann were ready to have children, they knew they wanted a large family.
But when she gave birth to their first child at 42, neither knew if she would be able to have another successful pregnancy. So the couple were open to adoption, something Hargitay had thought of since she was a child.
"I was really letting the chips fall as they might, because I do think so much is up to God. I always said, 'I don't know how this is going to end up. I don't know if I'm going to get pregnant and have twins. I don't know…,'" she told Good Housekeeping in 2012.
"'If somebody's going to leave a baby on my doorstep.' But I really did think that down the line, Peter and I would adopt a child. That was always part of the plan."
Little did they know that their third child would almost fall right into their lap.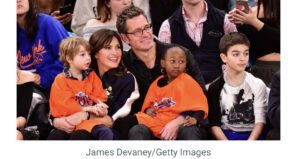 Hargitay and Hermann, who met on the set of SVU, married in 2004. In 2006, the couple welcomed their first child together, August.
"August has changed everything! You know, I think because I became a mom later in life, everything in life means more," she previously told Traveling Mom. "Every day is deeper and richer and more soulful."
Hargitay, who had August at 42, said she believed she had her son at the right time.
I believe that God has His timing. I think things happen when they're meant to happen and you have to trust that. Without a doubt, along with Peter, August is the greatest thing that has happened to me. There really are no words for the emotions and the highs that I feel. I've never experienced anything like this before.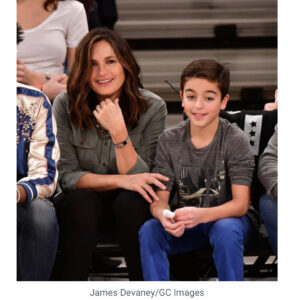 The award-winning actress and her husband enjoyed their time with their son, but after a few years he began asking for a sibling. And the two actors were also itching to grow their family.
The couple found a lawyer and began the adoption process.
They completed an intense five-hour home visit, only to endure several false starts.
But finally the couple met a young woman who was pregnant with a girl. Described as "probably about the third" adoption attempt, Hargitay wanted to be sure the young expectant mother wanted to give up her child for adoption.
She formed a relationship with the woman, and they both felt confident that Hargitay and Hermann would be a perfect match.
"She didn't even meet anyone else; she only met me."
Everything had been going smoothly. Hargitay was present for the baby's birth, and she and her husband got to bring their daughter, whom they had named already, home. But then "the long and short of it: The birth mother changed her mind."
"It was nothing short of devastating."
Despite what almost was, Hargitay and Hermann continued working with their lawyer and social worker. Finally, they found a woman who impressed everyone.
"It was almost too good to be true," Hargitay said.
The birth mother, who was Black, told the couple she knew she was making the right choice.
"She said, 'I know this is right. You are this baby's mother.'"
Hargitay said her child's race was a "nonissue" to them, and "we were excited to have a multiracial family, because that's what the world is, and we want our family to reflect a realistic microcosm of the world."
Finally, the day had come and in early 2011, baby Amaya Josephine was born.
"I'm deliriously happy," a then 47-year-old Hargitay told People.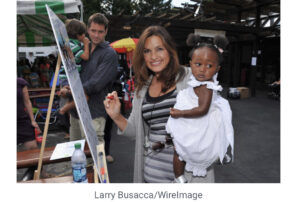 August, who was four-and-half years old at the time was in love with the newest addition to their family.
"He is over the moon," she said. "He calls her his baby because he says the whole thing was his idea. He always talks about how he's going to protect her. He's going to be a great big brother."
However, like most kids, he still wasn't satisfied. He now wanted a little brother.
Little did they know that a miracle was about to happen.
"A miracle happened and our second son, Andrew, fell out of the sky and into our home," she said.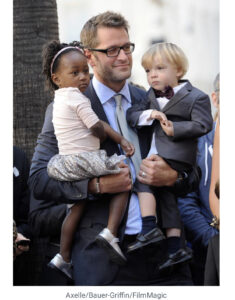 Shortly after adopting Amaya, a dear friend of the couple suddenly died. The friend's name was Andrew.
That week their lawyer called to see how their new life with Amaya was going. They also had some news for the family of four. There was a baby boy who had been born two months premature.
While the lawyer knew Hargitay and Hermann were "done" adopting for the moment, they asked if they were interested in the child – the boy's name was Andrew.
"I don't really know what to say about it, other than it was a no-brainer. Peter and I both thought, Let's do it! I'm in!" she said. "It was like…a miracle. And I don't use that word lightly. I've never made a bigger decision so quickly. The whole thing happened in a total of two days."
Just six months after bringing home daughter Amaya, the couple brought home their second son Andrew.
They were now complete.
"Adoption was a bumpy ride — very bumpy," she said. "But, God, was it worth the fight."
Mariska Hargitay's story goes to show that adoption isn't easy, not even for celebrities. I am so glad that she and her husband were not only able to give one child a loving home, but two.
Please share this story on Facebook.