Marnie Schulenburg, who was known for her roles on the soap operas As the World Turns and One Life to Live, has died. She was 37.
Her death was confirmed to multiple news outlets by a representative. Her husband, actor Zack Robidas also confirmed Schulenburg's death via a post on Facebook, according to Variety.
"Please don't say Marnie lost her battle to cancer. It's simply not true. I watched her kick cancer's ass everyday since diagnosis," he wrote. "She is incredible. We chose to attack her diagnosis with blind optimism. We only talked about the future and continued moving forward. I don't know if this was right but it's all we knew how to do."
Schulenburg was born on May 21, 1984 in Cape Cod, Massachusetts. She attended Barnstable High School in Massachusetts before graduating from DeSales University in 2006 with a degree in theater.
Shortly after graduation she moved to New York City to pursue a career in acting. She was cast in the role of Alison Stewart and made an appearance on The Young and the Restless in February 2007. The following month she played Alison on As the World Turns and her character remained on the show until the soap opera was cancelled in 2010.
During the final year of the show, in which she appeared in over 300 episodes, she received a Daytime Emmy award.
Several years later she starred in the revival of One Life to Live. She also also made appearances in several other TV shows. She had recently filmed a recurring role on the third season of Showtime's City on the Hill. The season will premiere this summer.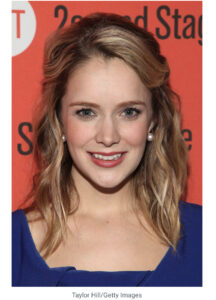 In May 2020, a few months after giving birth to her daughter Coda, Schulenburg revealed she had been diagnosed with stage 4 metastatic breast cancer. She was initially misdiagnosed with mastitis.
"What kind of sick purveyor of my fate gave me the gift to bring life into this world only to try and take mine in its place?" she wrote.
Schulenburg was released from the hospital just in time to spend Mother's Day at home with her daughter and husband. In an Instagram post she reflected on what it meant to be a mother with breast cancer.
"I know that me being here for her is the best gift I can give her but right now it feels like settling since she's getting a half-life version of myself."
On May 17, just days before her 38th birthday, Schulenburg died at a hospital in Bloomfield, New Jersey.
"So here's to remembering that nothing is permanent. To soaking up the imperfections and that the best thing you can do for your child is make them feel loved, safe and supported just like my mother did for me. Screw the oxygen mask, just remember how to breathe."
Rest in peace, Marnie. You fought one incredible fight, and it's not fair you had to be taken from this world so soon.
My prayers are with your family.