There is just one constant in life; that it is completely unpredictable. No matter how much you plan, there is always something that will take you by surprise. And the surprise may not always be good.
And a South Carolina family ran into a tragedy that reminded them of exactly how unpredictable and precious life is.
The Bayles family in Berkeley County, South Carolina is currently reeling from a horrific incident their family, unfortunately, had to go through. The young family is still grappling with what happened on 26th April 2022.
It was a typical day for the Bayles family when their elderly neighbor wandered onto their property, seemingly confused. Since the elderly neighbor suffers from dementia, the family decided to help her get back home safely.
Bethany Hastings decided to drop her neighbor back in the family's golf cart. She took her daughter Lainey, 4-years-old and son Wesley 2-years-old along.
When they got to their neighbor's home, her pitbull was lose. When the dog saw the family on the golf cart, it lunged at them immediately. He jumped on the golf cart and attacked all three.
"First he got my brother, and then second he got me and then third he got my mom," 4-year-old Lainey recounts.
Bethany Hastings, who is a nurse by profession, restrained the dog physically for 15-minutes. She recounts those 15 minutes as terrifying as the dog continued to struggle under her weight and lunge at her constantly.
"I didn't have a choice," she said. "If I had let go, he would have gotten me or them again."
She held the dog down till another neighbor arrived and quickly bundled her children into his car. She calls the neighbor their hero. Five minutes after their neighbor had come, EMS services arrived and rushed the family to MUSC for treatment.
Luckily Bethany and Wesley sustained minimal injuries and were immediately released. But Lainey did not fare as well. The 4-year-old spent four days in the hospital, two of those days being in the pediatric intensive care unit.
"They hadn't quite seen anything like that before to that extent, with that much damage," her mother shared. Lainey will also have to go through multiple procedures to correct the injuries sustained by her face.
"She's in karate and tee-ball, so I thought she'd wind up at the hospital maybe for a broken bone or something crazy like that, but never this; never," Bethany Hastings said.
Since the attack, the family has developed a slight fear of being outside.
"After that, you realize just how vulnerable you are to everything," Hastings said, recounting the horrible experience her family went through.
The family has set up a GoFundMe for Lainey's treatment costs. The little girl has a long way to go in terms of her treatment.
As for the pitbull who savagely attacked the family, he has been euthanized by authorities. Bethany Hastings urges people to keep tight control on animals who are likely to hurt someone.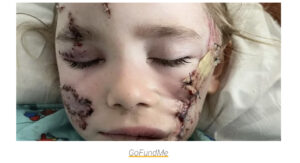 The experience Bethany Hastings and her young children went through is horrifying. Hopefully, they will recover soon, both physically and emotionally.
Share the story of his brave family with your friends and family!