The last memory that twin boys, Owen and Hunter have of their mother is of her shielding them from the blow of a devastating car accident and then shutting her eyes forever. The heroic mother gave up her life so that her twin boys could escape the crash with only cuts and bruises after a driver, who shouldn't have been allowed to drive in the first place, rammed into their vehicle on Monday, March 1.
On her way home in Lincoln Park, Michigan, the mother-of-three named Hillarie Galazka was driving with her 5-year-old twin boys when the crash took place. As she drove towards the entrance ramp of I-96 near the Davison, Hillarie's Saturn Ion was rammed into by a 25-year-old driver who was speeding at the time.
Within seconds, 29-year-old Hillarie threw her body in front of her twins and shielded them from the massive impact of the crash. "Her body saved them," said Hillarie's grieving mother, Jodie Kelley, according to FOX 2 Detroit. "The boys say they saw her open her eyes, and look at them and then she closed her eyes, never opened them again. They remember that."
Twins Owen and Hunter made it out alive with minor injures, but Hillarie died on the scene after taking the brunt of the force. Immediately after the crash, the driver who rear-ended their vehicle fled the scene but was later found at a hospital.
Heartbroken over the death of her daughter, Jodie said, "She was my best friend she's gone now."
"I'm just glad the babies survived a tragedy for the family," said Jacob Galazka, Hillarie's brother. "Everyone loves those kids. Everyone loves Hillarie. She is a good-hearted, strong, beautiful woman. She didn't deserve this death."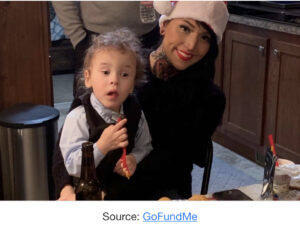 Soon after the crash, it was found that the 25-year-old man behind the wheels was driving on a suspended license. Apart from this, he had five current suspensions and two local warrants to his name, in addition to two prior convictions.
"I am devastated. I cannot believe that this man wasn't in prison for his entire life for all of his warrants. I can't believe he was behind the wheel doing 90 miles per hour in an SUV," Jodie said.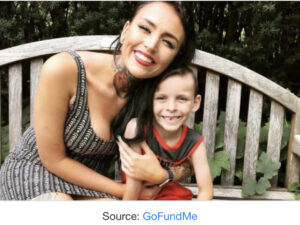 According to People, the driver told the police that he escaped after the accident on foot to a gas station closeby, and then got someone to ride him to the hospital where he was eventually nabbed.
As the investigation continues, the family is left bearing the weight of their loss while the twin boys stay with their father Brandon Purdy, according to a GoFundMe page set up to raise funds for the boys.
Another fundraiser page was also set up by Jodie, requesting people to help the mourning family with funeral expenses as well as to raise money for Hillarie's three sons left behind.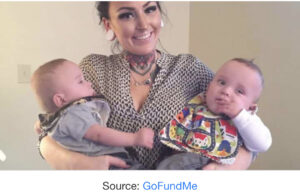 "It's going to be hard," Jodie told FOX 2 Detroit. "She was my firstborn, she was so beautiful."
Seeing the kindness that people showed by donating to the GoFundMe page, Jodie said, "Thank you soooo very much for all your donations everything is a blessing thanks. Dearly God bless you all my daughter will be laid to rest as she should."
Cover image source: GoFundMe