It's an extremely sad reality we live in. Not only are teachers tasked with educating our children, but they are being forced to risk their lives to protect our kids. And unfortunately some, like Irma Garcia and Eva Mireles pay the ultimate price.
In mid-May, three elementary school staff members at a school in Nashville took action when a man who had been lurking by the school's playground attempted to invade school grounds.
Those three staff members are now being hailed as heroes.
The incident occurred on the morning of May 11 at Inglewood Elementary School in Nashville. Rachel Davis and another teacher were with their kindergarten class outside on the playground when they noticed a man identified as Onreka Gray lurking nearby.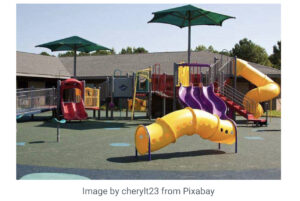 "Me and another teacher noticed him kind of just mingling at the bottom of the playground. You start to get the feeling that something just doesn't feel right," Davis said.
Davis informed Gray that if he needed assistance getting into the building he would have to walk around to the front office and speak to staff there.
She gathered her kindergarten class of 32 and began bringing them inside.
That's when Gray jumped the school's fence and charged at the open door.
'I need to get inside!'
Davis, who stands at 5′ 5″, attempted to block the man while yelling for help and telling her students to go inside.
The school's secretary Katrina "Nikki" Thomas rushed to help. She was able to position herself behind Gray and hold him to prevent him from rushing inside the building.
Shay Patton, the school's bookkeeper, also ran to help.
Gray was able to make his way into the school, but not for long as Davis ran after him and tackled him to the ground.
"I was going to do anything in my power to protect these kids, not just my kindergarten kids," she said. "All these kids feel like my kids."
The three staff members restrained Gray for 10 minutes, though it felt like an eternity, until police arrived.
While the three staff members were able to keep the kindergarten class and the rest of the elementary school students safe, just thinking about what could have happened frightened them.
"Imagining what could have happened. Just imagining what could have happened if it wasn't for Mrs. Davis, me and Shay. Just imagining," Thomas said.
"I was going to do anything in my power to protect these kids, not just my kindergarten kids," Davis said. "All these kids feel like my kids."
During the altercation Davis broke her elbow and was out of school for several days, but returned ready to teach and protect within a week.
The school's principal Ashley Croft praised the staff members for their heroic act.
"She [Rachel] and Nikki and Shay are heroes. There's no telling what would've happened had they not acted. They put their lives on the line for our kids."
Gray faces charges of assault, resisting arrest and aggravated criminal trespassing. There are also plans to make the fence surrounding the school's playground taller.
This kind of responsibility should not be placed on teachers. They should not have to defend our schools and protect our children.
What is going on here? How can we fix this?