Olena Zelenska, the First Lady of Ukraine and wife to President Volodymyr Zelenskyy, has inspired people around the world over the past week. Her courage and calmness have been needed for herself, her family, and her husband, but also millions of Ukrainians.
Olena Zelenska and Volodymyr weren't the regular, political couple, when they won the presidential election in Ukraine in April 2019. However, the two have an extraordinary and unique story that goes back decades.
For Zelenska, her new life involves political aspects. However, she never had any political ambitions earlier in life. So how did she and her husband get where they are today? And how did they meet? This is all you need to know about Ukraine's First Lady, Olena Zelenska.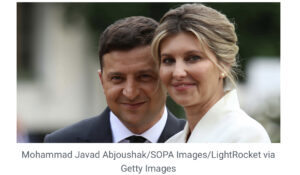 Olena Zelenska, 44, and her husband and Ukrainian President Volodymyr Zelenskyy are – just like millions of people – are going through the most challenging periods of their lives. While the president is in charge of everything in their country and borders, Olena Zelenska is doing her part in helping with whatever she can.
Olena Zelenska – First Lady of Ukraine
At the moment, that mostly means supporting her husband, caring for their children, and spreading calmness to her fellow Ukrainians.
Olena and Volodymyr know each other inside out. Together, they have been through extraordinary times, and their story towards the Presidential seat is astounding. But when her husband announced that he was running for president, she was all but happy.
Olena Zelenska – whose maiden name is Kiyashko – was born on February 5, 1978, in the city of Kryvyi Rih. It's located in central Ukraine, about 260 miles south of the capital, Kyiv.
Zelenska and Zelenskyy grew up in the same city, and in fact, they were born just a week apart. However, it wasn't until they were both students at Kryvyi Rih National University that they met for the first time.
"I don't remember the moment when Vladimir and I first met eyes. Everyone knew him at school. His company was always bright. If it was loud somewhere, then Zelensky was there," Olena recalled.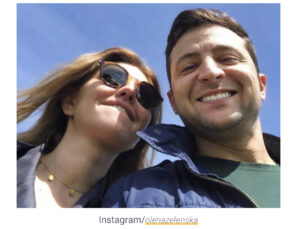 Olena was interested in architecture. Therefore, she decided to begin studying the area. However, she later found passion elsewhere, switching her attention to writing.
Olena Zelenska dated someone else when they met
Olena and Volodymyr met at the university and soon after started dating. Volodymyr was a law student, but also aspired to be a comedian.
However, when they first met, it wasn't quite love at first sight, at least not from Volodymyr's point of view.
Speaking with Lifestyle, the president said that he took pride in finding it easy to approach girls. However, things were quite the opposite with Olena. She didn't let him in at first, and that was pretty much what made him continue to try and impress her.
He explained that at the time, she was actually dating someone else, and in the long run she wasn't really interested in a relationship. However, as time went by, he fell deeply in love with her. Their common interests, Olena says, also laid the ground for their relationship.
"He immediately made attempts to look after me, and I didn't really want that at that time," she said. "But our conversations convinced me of the opposite. We looked in the same direction, we liked the same music, we could talk about anything. In a relationship, that is very important."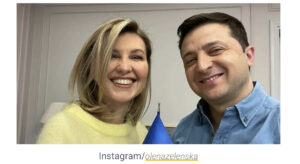 After eight years of dating, the couple tied the knot on September 6, 2003. A year later, they welcomed daughter Aleksandra. In 2013, Olena gave birth to the couple's second child, Kiril.
Successful comedian and actor
When Olena Zelenska and Volodymyr Zelenskyy got married, the thought of them becoming the president and first lady of Ukraine wasn't on the map. They had completely different interests at first, but once they got to know each other, it turned out they actually could work together.
As Olena was a writer – and Volodymyr, an up-and-coming comedian – she started writing material for her husband. Then, in the 2010s, Zelenskyy's career skyrocketed through the Ukrainian comedy series Servant of the People. Olena was a writer on the show, which aired for the first time in 2015 and ended in 2019.
The comedy show starred Zelenskyy as the friendly high school teacher, Vasiliy Petrovich Goloborodko. In the show, he became the president after being increasingly tired of what he said were corrupt politicians.
Ironically enough, the show ended in 2019 because the star himself, Volodymyr Zelenskyy, became the actual president.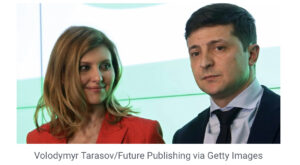 His nationally-acclaimed series won a Ukrainian Teletriumph Awards for the Best producer (Producer's Crew) of the TV movie/series.
Volodymyr Zelenskyy – actor and comedian
The show also became a film Servant of the People 2 in 2017, which was nominated for Best Film at the Ukrainian Film Academy Awards.
Servant of the People made Volodymyr Zelenskyy one of Ukraine's most popular entertainers. Further, he also worked as a voice actor, doing the voice of Paddington Bear in the Ukrainian versions of Paddington and Paddington 2, as reported by Variety.
In a promotional clip for the film, Zelenskyy is seen talking about the film and introducing himself between recording vocals for the Paddington Bear.
"Hello to my darling friends. I, Volodymyr Zelenskyy, will lend my voice to the wonderful, charismatic, friendly bear Paddington, he said.
"'Paddington [is a film] you can go to see with your whole family, and everyone will enjoy it regardless of your age," he adds. "You know you will definitely walk out of the film in a fantastic mood."
Being a comedian means being at the center of attention. But in that matter, Olena and Volodymyr were quite different.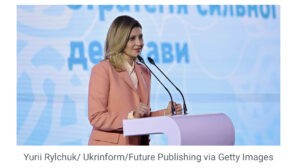 "I prefer staying backstage. My husband is always on the forefront, while I feel more comfortable in the shade. I am not the life of the party; I do not like to tell jokes, Zelenska told Vogue Ukraine in 2019.
She was "not too happy" with her husband running for Ofice
"It's not in my character. But I found reasons for myself in favor of publicity. One of them is the opportunity to attract people's attention to important social issues. At the same time, this does not concern the publicity of my children: I have not posted their photos on social networks before, and now I will not either."
As Volodymyr Zelenskyy rose to fame in the entertainment industry, Olena Zelenska continued working as a screenwriter for the Ukrainian production company Studio Quarter 95. But in 2019, their lives changed forever as they took the step into the political sphere.
According to ABC, the show became so popular that the production company, Studio Quarter 95, created the political party in its name. As a result, the political party Servant of the People was founded. In December of 2018, Zelenskiy declared himself as the presidential candidate for the party for the 2019 election, and straight away, he got plenty of voters.
However, everyone wasn't happy about him running for president. His wife, Olena Zelenska, told Vogue Ukraine that she found out about her husband's announcement regarding his candidacy for president on social media.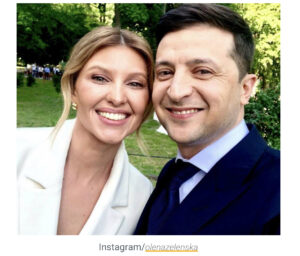 "I was not too happy when I realized that those were the plans. I realized how everything would change and what difficulties we would have to face," Olena said. "When I asked, 'Why didn't you tell me?' Vladimir answered: 'I forgot.' My husband knows how to surprise," she added. "But, if seriously, we had been discussing this issue for a long time, and I said that I would always support him."
Olena Zelenska – work as First Lady
Volodymyr Zelenskyy and Olena Zelenska headed into the 2019 Presidential election in Ukraine, running against then-current President Petro Poroshenko. When nearly all ballots had been counted, it turned out that Zelenskiy won by a landslide. As reported by the BBC at the time, he got more than 73% of the votes, with Poroshenko getting 24%
"We did it together," Zelenskyy told his celebrating supporters, thanking his wife, parents, and campaign team. "Thanks to all the Ukrainian citizens who voted for me and to all who didn't. I promise I won't mess up."
Volodymyr Zelenskyy had his plan for Ukraine clear, but also, as the First Lady, Olena Zelenska had issues she wanted to address. It took about half a year before she and her team had decided which task was the priority. Finally, they landed on children's health and reforms in school nutrition.
Zelenska wanted the Ukrainian school children to be educated about eating healthy. Also, that food in schools had to become better and more healthy. The Ukrainian Ministry of Health was to present a new nutrition program in schools. When going on trips overseas with her husband, she made sure to visit several medical centers working with the same issues.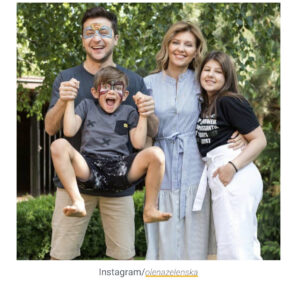 "In Japan, for example, there is a nutritionist in every school that pays special attention to the nutrition of children with allergies, and the kitchens in schools are completely separated and sterile, like an operations room. I sourced numerous ideas and became convinced that making positive changes is real, you just have to sincerely crave something and work hard," Olena Zelenska explained.
Why she rarely post pictures of children on social media
Even though Olena Zelenska became the First Lady of Ukraine in 2019, she described herself as a "non-public person."
Even though she prefers to be in the background, she also understands that she can attract people's attention to critical social issues through her role as First Lady.
One essential thing for her and her husband was that their children, Aleksandra and Kiril, are protected from publicity.
"I have not posted their photos on social networks before, and now I will not either," she said
"Let them choose how they want to live. The eldest daughter, Aleksandra, however, has already acted in films – but I hope she will not go further in this area. The youngest, Kiril, still has a chance to have a normal childhood – to play with other children, go for sports, attend music school without attracting unnecessary attention."
Volodymyr Zelenskyy became famous for his rather unconventional way of becoming President of Ukraine.
"I will not have panic and tears,"
Today, he's known worldwide for a whole different reason. His family with Olena and children Aleksandra and Kiril are believed to remain at an undisclosed location in Ukraine.
Just as her husband, the 44-year-old First Lady, decided to stand her ground
"I will not have panic and tears," Olena Zelenska wrote on Instagram. "I will be calm and confident. My children are looking at me. I will be next to them. And next to my husband. And with you."
Olena Zelenska and Volodymyr Zelenskyy have lived a very special life, raising two children at the same time as they both worked in the entertainment industry, and later became president and first lady of Ukraine.
Please, share this article on Facebook with friends and family if you also think they are inspiring people!