Just over a year ago, heaven gained another angel in Olivia Newton-John, who sadly succumbed to a lengthy battle with breast cancer.
Following her death, longtime fans of the actress and singer were naturally left heartbroken.
Though, those hurting the most were her daughter, Chloe Lattanzi, and her husband of 14 years, John Easterling.
Easterling has since spoken out following Newton-John's passing, explaining just how much he misses her and feels her presence everyday.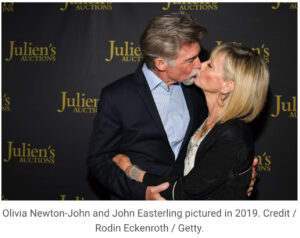 The award-winning singer and actress – who shot to stardom for her role in Grease opposite John Travolta – was 73 when she died, just shy of her 74th birthday, with Easterling confirming her death.
At the time, he revealed on social media that his late wife passed at their ranch in California, and that she died peacefully and surrounded by her loved ones.
"Dame Olivia Newton-John (73) passed away peacefully at her Ranch in Southern California this morning, surrounded by family and friends. We ask that everyone please respect the family's privacy during this very difficult time," Easterling's social media statement read, per The Guardian.
"Olivia has been a symbol of triumphs and hope for over 30 years sharing her journey with breast cancer," it continued.
"Her healing inspiration and pioneering experience with plant medicine continues with the Olivia Newton-John Foundation Fund, dedicated to researching plant medicine and cancer."
Olivia Newton-John's husband still feels her
Easterling spoke with People magazine about his relationship with Newton-John, and how much he misses her, telling the outlet that the late songstress always encouraged others to find beauty and love everywhere.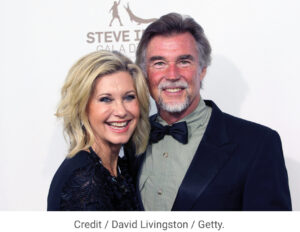 Earlier this year, Easterling went on a trip to Peru to scatter her ashes – in the same spot they wed in 2008. "It lightened my heart and created a very strong focus forward. I had 15 years with this extraordinary human being. That experience itself is worth a lifetime," he recalled.
He even revealed that he still feels Newton-John's presence, and recounted how he noticed a photo he had taken in Peru had a blue orb between his eyes – something he says was a "supernatural" experience.
Since Newton-John's death, Easterling says he feels her at random times throughout the day, and that he even talks out loud to her. He also says that he feels an obligation to live life for both him and Newton-John, especially since she was his soulmate.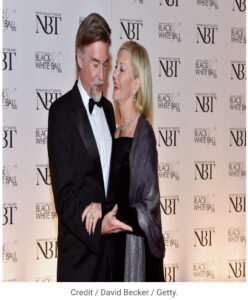 The one promise Olivia Newton-John and John Easterling made to each other
During his interview with People, Easterling revealed the one promise he and Newton-John made to each other before she passed.
"The commitment Olivia and I had was that we would love each other forever or until the end of time, whichever came last," he said of the promise.
Even though it's been over a year since her passing, it's clear that everyone in Olivia Newton-John's life feel her presence, which is a true testament to her shining spirit.
If you enjoyed this piece on Olivia Newton-John, you may be interested in reading about the heartbreaking tribute John Travolta made to her at the Oscars.