Phillip Schofield, 59, has become one of the most famous television personalities through his work as a presenter on ITV. The Oldham, Great Britain native, has lived an extraordinary life, moving around the world as well as being happily married.
However, about a year ago, Schofield released a brave statement announcing he was gay. People around the world praised his courage, but at the same time, many wondered what would be next for him, his wife, and his children.
So what has happened to Phillip Schofield? Even though he and his wife Stephanie aren't living together anymore, they're not divorced yet. Why is that? Here is all you need to know about Phillip Schofield's life!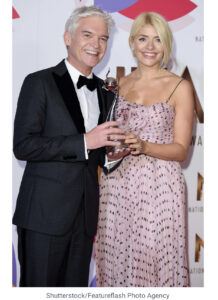 Phillip Schofield worked in the media business before his 18th birthday. And the fact that he wasn't able to do it for a while almost brought him into a very tough downward spiral.
Phillip Schofield
Schofield rose to fame in both the UK and outside of Europe through his later work as a presenter on ITV This Morning alongside Holly Willoughby. The duo rose to fame on social media through many funny clips, including laughing with the Italian chef Gino D'Acampo.
But in fact, Phillip Schofield's career in television started when he was still a teenager. So even though he wasn't a star then, it laid the groundwork for his future career.
The last year has been quite remarkable for Schofield. With the full support of his wife, Stephanie, and two children, Phillip Schofield announced that he was gay. The announcement was very emotional, and now, his new life has started.
But despite him not living together with his wife Stephanie, the couple have no plans on getting a divorce at the moment? Why?
Here is all you need to know about Phillip Schofield!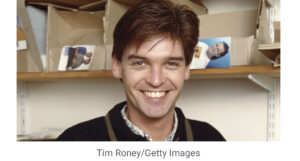 Born on April 1, 1962, in Oldham, England, Phillip Schofield grew up in Cornwall with parents Brian and Pat Schofield.
He went to Trenance Infant Scool and later Newquay Tretherrras School, and at 15 years of age, he started his career in broadcasting.
Early career in radio
Schofield got his own Sunday show on a radio station in Plymouth, where he was the presenter. He was determined to pursue his dreams of working in the media industry, but his teachers tried to hold him back.
In the 1992 book, Phillip Schofield: The Whole Amazing Story, several of the presenter's former teachers revealed that they tried getting Phillip Schofield to focus on other careers.
Gerry Green worked as a careers adviser and teacher at the Tretherras Senior School, and she revealed that Schofield already had a clear plan.
"I came up against a brick wall. I had no chance. Schofield knew what he was going to do, and nothing I said made the slightest difference," Green said. "'Very nice, Phillip. Now, if you couldn't do that, what else would you like to do? 'I don't want to do anything else,'" she recalled him saying.
Green tried telling Schofield that he should try and pursue a "sensible" job, such as working with computers. But Schofield didn't listen.
"I said, 'There must be something else you fancy doing apart from working for the BBC" But he just shook his head. 'That's all I've ever wanted to do,'" she added. "I put his wild ambition down to adolescent dreaming: I thought he'd just have to live and learn. Certainly, it never crossed my mind that he would, indeed, go on and interview people."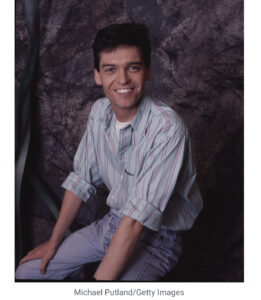 While most children enjoy playing outside, Schofield was not a fan. If you saw Phillip Schofield running around with friends when he was young, that meant something wasn't right.
Move to New Zeeland
Schofield didn't find it productive or fun; instead, he was entirely focused on pursuing his dream. He bombarded the BBC with letters, asking for any job. At the same time, he worked in his father's shop, dedicated to surfboards and refining his skills as a disc jockey.
At 17, the BBC finally responded. Schofield got a job as a clerk and tea boy at the BBC radio in London. He became the youngest BBC employee at the time. However, two years later, his dream was destroyed.
Schofield and his family moved to Auckland, New Zealand, and he was crushed. Still, he wouldn't let the move affect his passion for radio. In 1982 – just six months after moving across the world – he landed his first presenting role as he hosted the teen music show Shazam!.
In 1985, Phillip Schofield returned to the UK, filled with new experiences and, most importantly, knowledge about the industry. He was still set to get his dream job in his home country, and soon after arriving, Schofield got a job on the brand new Children's BBC (CBBC), where he introduced programs from a tiny control desk, dubbed the Broom Cupboard, with the puppet Gordon the Gopher.
Two years later, Phillip Schofield went on to work as a presenter for Going Live!, but in the early 1990s, he was done with children's television.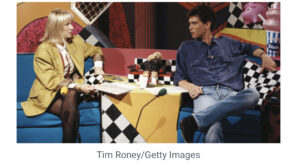 Instead, he turned to other shows, getting his own productions in Schofield's Quest, Schofield's TV Gold, and Talking Telephone Numbers. He even became a performer, releasing a single from the Close Every Door musical – which reached No. 27 on the charts – and had a leading role in the musical Joseph and the Amazing Technicolour Dreamcoat.
Phillip Schofield – family, wife & children
After jumping on a couple of other jobs, Phillip Schofield finally got a dream job. In 2002, he joined This Morning as a presenter, working with Fern Britton until she left in 2009.
She was replaced by Holly Willoughby, which turned out to be a great move, as the two have been inseparable since. Willoughby and Schofield have one of the longest partnerships in British television history – and still to this day, they are going strong.
As of today, Schofield has become a national treasure, winning 10 National Television Awards, three Bafta Awards, and three TV Choice Awards.
At the same time as Phillip Schofield climbed up the career ladder, he also found the love of his life, Stephanie Lowe.
At the age of 25, while working at the BBC with the children's shows, Schofield met Lowe, who was working as a production assistant. On March 29, 1993, the couple tied the knot at Ackergill ower, Scotland. The same year, they welcomed daughter Molly, and in 1996, little sister Ruby was born.
In February 2020, Phillip Schofield's world changed forever as he bravely came out as gay. In an emotional Instagram post, the beloved television host revealed that it had caused "many heart-breaking conversations at home."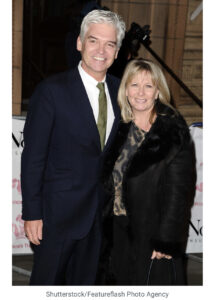 "You never know what's going on in someone's seemingly perfect life, what issues they are struggling with, or the state of their wellbeing — and so you won't know what has been consuming me for the last few years," the statement read.
Came out as gay: "They have tried to cheer me up"
"With the strength and support of my wife and my daughters, I have been coming to terms with the fact that I am gay."
"I have been married to Steph for nearly 27 years, and we have two beautiful grown-up daughters, Molly and Ruby. My family have held me so close: they have tried to cheer me up, to smother me with kindness and love, despite their own confusion, Yet still I can't sleep, and there have been some very dark moments," Schofield wrote, and continued to praise his beloved wife, Lowe.
"I love her so very much. She is the kindest soul I've ever met."
Phillip Scofield's decision to come out was praised by colleagues, family, and viewers. It was a brave choice, and when speaking to The Sun, his wife, Stephanie Lowe, said she supported him fully.
"I love Phillip, as much today as I ever have, and always will," she said. "At the same time, we've been awestruck by the strength and love of our precious girls, even as they've been trying to make sense of it all for themselves. Our family has also been so supportive and will help us going forward."
After the statement in February 2020, Phillip Schofield moved out of the family home.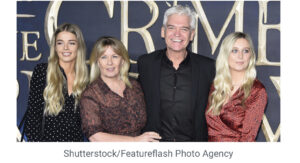 He decided to document his journey in his autobiography Life Is What You Make It. According to several news outlets in Britain, he bought a new home in Chiswick, London, which was said to have cost about $2.7 million.
Phillip Schofield – house & net worth
Neighbors of the 59-year-old television host said that they had seen him around the property regularly and that people were excited to have him living in the neighborhood.
"He seems like a very nice man and quite normal. You see him walking or cycling mainly, and he smiles every time he goes past," one neighbor told the Daily Mail.
"There are quite a few famous people already living around here, so Phillip Schofield moving in is not a big deal," another neighbor added, "A lot of people have been talking about it, but nobody bothers him. He's a lovely bloke, and I'm sure he'll enjoy living in our community."
Celebrity Net Worth states that Phillip Schofield has a net worth of around $12 million.
Even though Schofield isn't living with Lowe and his two daughters anymore, the Schofield family still makes sure to stand together. They have been seen at several events together, and if that doesn't prove that family is stronger together, nothing is.
Even though Schofield came out as gay in 2020, the television host revealed it could've been announced earlier. In an interview with CX, he explained that he probably was gay already when he tied the knot with Stephanie Lowe.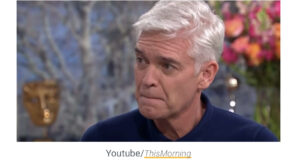 Even though they aren't living together today, Philip Schofield has stayed married to Lowe.
Still married to his wife
When appearing on the How To Wow podcast in 2020, he revealed that they haven't talked about breaking the union.
"I'm still married to Steph. There is a great deal of talk of divorce – we have not discussed that at all," Schofield said. "With divorce… that has not been discussed. We are picking our way through, and however that works, and it's a work in progress. I am a work in progress. Steph is a work in progress."
When asked about how long he will continue to wear his wedding ring, Schofield explained: "That is a very good question. I don't know. Because I am still married to Steph, he said. "It is not in my nature to hurt people, and so I have to reconcile myself with the fact that I have done that. Indeed I have done that, and I tried very hard not to.
"I also say, is it possible to come out and not hurt your wife? No, of course, it isn't. My greatest concern is that she is okay," Schofield added.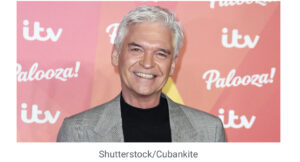 Whether Phillip Schofield has a new partner or not is currently unknown. However, when he came out as gay on This Morning, he stated that it wasn't anything he thought of at the moment.
"It's always us four but slightly different"
"I'm not thinking there. I'm doing each day at a time now. This has always been a slow process, and there's no fast process after this," he said.
Despite reports of Schofield not having a new partner, it's clear that he and Stephanie have made a decision to sttaying close together and as of today not getting a divorce.
On February 21, Stephanie appeared on the This Morning show when Schofield was the host, with the two speaking on their relationship. They still hang out as a family – and sometimes stay under the same roof – which is a choice both Phillip and Stephanie seem very happy about.
He admitted that his family are his "rock"
"We have obviously, clearly had changes in our lives. I have said, it's always us four but slightly different," Phillip Schofield said. "Steph has been the most incredible foundation and support and rock throughout my career."
"The girls, I couldn't be more proud of. So yeah, we are a family," he added. "I was with Steph and Ruby during the big storm on Friday and I am still struggling to see how you've got Wi-Fi."
We wish Phillip Schofield all the best in the future. Please, share this article on Facebook with friends and family to honor his bravery!