Rick Allen has played with Def Leppard for over 35 years and is widely regarded as one of the best rock drummers of all time.
Sadly, he's enduring a rough period right now following a totally unprovoked attack last week.
The assault occurred outside the Four Seasons in Fort Lauderdale, Florida, on March 13. Max Hartley, a 19-year-old spring breaker from Ohio, walked up behind Allen as he was smoking a cigarette. The young man, highly intoxicated, hit Allen in the head and threw the legendary drummer to the ground.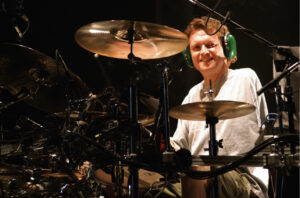 According to the police report, Allen was injured after hitting his head on the ground. A brave, unnamed woman came to Allen's rescue and tried to intervene, only for Hartley to then go after her.
The perpetrator attacked the woman and began pulling her by her hair. Police said that Hartley "continued to batter her" while she was on the ground.
In a bid to escape her attacker, the woman fled into a hotel. Hartley, meanwhile, escaped the area to a nearby parking garage where he started damaging vehicles before being caught by the police.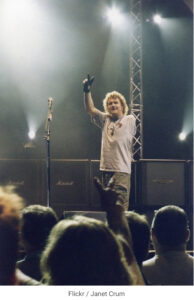 Judging by the released 911 audio tapes, a chaotic scene played out in front of the hotel when Allen and the woman were attacked.
"Apparently a guest, some guy assaulted her and was actually beating her up in front of the front of our building," one woman told a dispatcher.
Another worried caller, who owned a restaurant nearby, also called for help.
"Send the police here right now!…I'm sitting on a f—–g suspect," he said.
The attack shocked many witnesses, not least fans of the iconic Rick Allen. Some were initially concerned that the good Samaritan who came to Allen's rescue was his wife – but she wasn't.
A week after the attack, Allen released a statement giving fans an update in which he thanked everyone for the "overwhelming support".
"Your love and prayers are truly helping. My wife Lauren was thankfully not with me at the time of the incident. We are together now, and working on recovering in a safe space," the drummer said on Twitter.
Last week, Allen traveled to Florida to perform a show at the Seminole Hard Rock Hotel and Casino. The legendary performer, known for his extraordinary talent and humbleness, lost his left arm in a tragic accident in 1984.
The English-born Allen, known as "The Thunder God" by his fans, continued to play drums with one arm – though had to re-teach himself.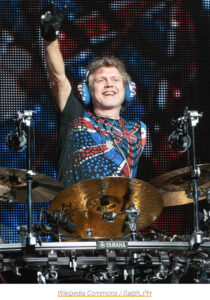 "They wanted to re-attach it, but an infection set in, and because it was so close to my heart, they didn't risk it. Looking back, the doctor told me that if the re-attachment had been successful, I would have been going back for operation after operation. I wouldn't have wanted to go through that. I suffered enough pain, both physically and mentally," Allen said in 2011.
As one can guess, Allen has been through a lot in his life – but it's clear that the vile and unprovoked attack in Florida took a heavy toll on him.
"We are focusing on healing for everyone involved," Allen said on Facebook
"We ask you to join us in our effort to move from confusion and shock to compassion and empathy. We understand this act of violence can be triggering for so many people."
The 19-year-old Hartley was charged with four counts of criminal mischief – his lawyer told Miami Herald that his client had "never been in trouble with the law before."
How scary and traumatic for everyone involved!
Sending prayers to Rick Allen and the woman who helped him!