Linda Hoffman had grown up with her family in Denver with no idea that she had a sister living in a different state.
Her parents had given up their first-born daughter for adoption after having her when they were just 18 years old. They both passed away decades ago taking their secret with them.
But after more than 70 years the sisters have now found each other.
The siblings found each other by accident after signing up for Ancestry.com. Harriet Carter saw that her DNA was matched to Linda and sent her a message.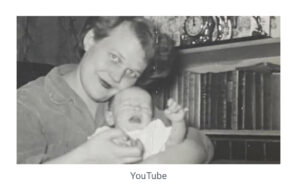 "I had a message from Harriet saying, 'I think we might be related,'" Hoffman said, who lives in Denver. "We were 100% match, but our parents never told a soul ever."
This was two years ago and ever since, the sisters have been planning a meeting that has been delayed due to the pandemic.
"I'm so excited. I can imagine what she's thinking," said 73-year-old Hoffman as she waited to meet her sister for the first time at Denver International Airport.
Hoffman was so excited when she spotted her sister arriving from Sacramento. "Oh my God, that's her," she said.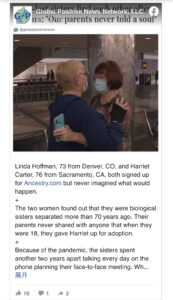 The sisters couldn't believe how much they looked like each other.
"You do look like me," Hoffman said. "I can't believe how much you look like my mom. Your mom. Our mom… I can't quit staring at you."
The long-lost sisters then took time to look through old photos at the airport before going to Hoffman's house.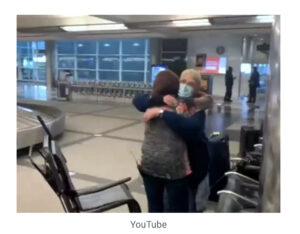 "This picture is sad because you're not in it," Hoffman said to her older sister.
"To see all these pictures of the love and the bonding and the closeness… now that I get older, it's especially relevant," Carter said.
The sisters aren't sad because of the time they've missed together.
"I think we found each other when we were supposed to," Hoffman said
It's shocking to think these two sisters knew nothing about each other and were so close to never knowing each other existed.
I'm so glad they finally got to meet and I wish them both many more years together catching up.