At some point, each and every one of us goes through a rough patch. We ask for help, whether it be from friends and family or a higher power, or sometimes just hope that someone will lend us a hand or send us a sign.
Between a divorce, death in the family, and a health scare, Howard Kirby has had a difficult time the past several years. Recently, Kirby who lives in Michigan and is a new retiree purchased a couch from a Habitat for Humanity Restore for his man cave.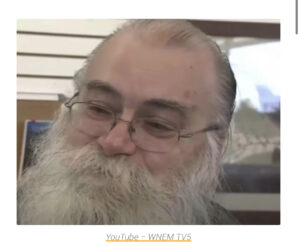 There are usually one or more sofas in most homes, and inside them, anything can be hidden. I mean, who hasn't found candy, snacks, remote controls, and old coins when cleaning your couch?
But what Howard Kirby found was something extra…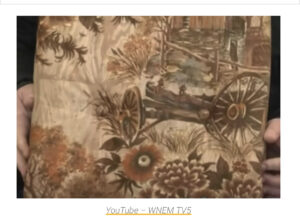 For some time he thought his couch seemed uncomfortable, but ignored it. Finally, he and his family took a closer look.
"I still have to pinch myself to make sure I'm not dreaming or something," he told WNEM.
Kirby found $43,170 inside the ottoman, and legally he didn't have to give it back. The money could have helped him a lot – because as a divorced man, he had been down on his luck for some time. He had lost a kidney, a family member to cancer, and unfortunately, his son had also lost his job.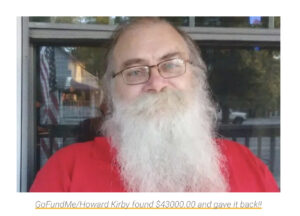 But Kirby, a born-again Christian, didn't feel right keeping the money, even though he could have used it for a number of things, including a new roof.
Instead, the selfless man contacted the store, found the person who donated the couch and returned every single penny.
"Being a born-again Christian, Christ in me is the one that actually gave the money back," Kirby said. "Remember the bracelets, WWJD? Well, that's what Jesus would do."
"To me, this is someone that despite what they're going through – and in spite of their own needs – says 'I'm just going to do the right thing,'" Rick Merling, the store's manager said.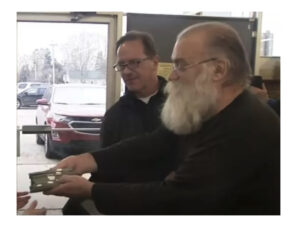 Kirby's community helped him
After Kirby's community heard about his good deed, he's received numerous offers of support.
"Just because I did something right people want to do something for me. There's so much there, so much joy," Kirby said.
When Kirby returned the money to its rightful owner, Kim Newberry, the Newberry family wanted to repay him. They offered to fix his roof, but if they want to thank him it will have to be in another way because Habitat for Humanity and a local builder have made plans to give Kirby a new roof.
"I don't know how to say it, I'm blessed," Kirby told M Live. "I'm blessed beyond words."
A GoFundMe has also been started in support of Kirby and so far has raised over $5,000.
"I'm blessed beyond words. I have had so much peace, so much joy because I did do it, that $43,000 never could buy that much joy or peace or happiness."
Kirby is an inspiration! He returned thousands of dollars when he had no obligation and could have used it on himself and his family.
Share his story to inspire others.