Teen Tries To Buy Late Fathers Squad Car But Is Outbid Then Highest Bidder Says "Here Is Your Car"
Tanner Brownlee lost his dad Sam Brownlee, a police officer, when he was 15. Since his father died in 2010, Tanner had a hard time letting go of his grief and had kept memorabilia of his late father.
One day, Tanner got hold of the news that an organization in Greeley, Colorado, included his dad's old squad car in an auction for a cause. To Tanner, the vehicle is not just any possession but a precious object with a more profound significance. His father used to drive it, and acquiring it would make Tanner feel closer to his dad.
Tanner previously claimed his father's motorcycle jacket and other souvenirs after his death. He felt excited upon hearing the auction. Coincidentally, the Concerns of Police Survivors (COPS) is the organizer behind the auction. This organization gives financial aid to family members of survivors of deceased police kil led in the line of duty.
Determined to get the old Dodge Charger, Tanner took his cause on the Internet and set up a GoFundMe fundraising account.
"Just everything I can get means a lot to me," says Tanner in a previous interview.
Some people understood Tanner's sentiments and shared funds until he finally raised nearly $3,500. He is willing to do everything to get his old dad's car back.
"I think if anyone should be able to gain such an incredible honor to own such a special vehicle, it would be me or my little brother," he said.
The amount, however, does not guarantee that he can get his father's car as there may be outbidders out there who may outbid him.
The day for the auction came.
Auction organizers initially set the car at $12,500 per record in their Kelly Blue Book. Despite such an amount, Tanner remained optimistic that he could win the car.
However, outbidders in the auction bid the vehicle for tens of thousands of dollars, a staggering increase from its original amount!
Tanner felt devastated as outbidders continued to bid at an amount that he could not afford anymore. In the end, Steve Wells, a ranch owner, got the old Dodge Charger for a whopping $60,000.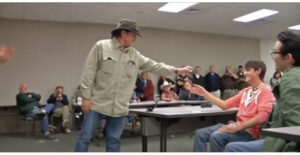 "Tanner. Here is your car," Wells said unceremoniously.
In the Youtube video, one can see Tanner teary-eyed and shocked while receiving the car keys. Wells empathized with Tanner and hugged him.
Tanner did not know Steve Wells until that day. Since then, Tanner can never forget the kind and compassionate man for giving him his heart's desire.
"This is just so huge. I mean, me and my dad built a fence and stuff, but having something I can use and drive around that he drove around, it just means a lot," Tanner announced.