All alone with no adult to look after them or comfort them, two little children had to provide for themselves after their parents tragically passed away. It took three whole days for outsiders to discover that the 5-year-old girl and her 1-year-old brother were living alone in the house while their parents' dead bodies were lying in their bed.
During the course of those harrowing three days, it was the little girl who had been taking care of her baby brother. The two children had also been sleeping next to the blackened corpses of their parents, Alexander Yakunin 30, and Viktoria, 25, who are believed to have passed away from eating poisoned pickles.
Two children slept next to blackened corpses of their parents for 3 DAYS after they 'died from poisoned pickles' https://t.co/Y8xkbiNI9C

— Newsdaily (@Newsdailyng1) October 24, 2020
When family members hadn't heard from Alexander and Viktoria, they started growing worried, and they found it unusual when the couple did not show up at a family gathering. Relatives called the couple's house in Bolshoye Kuzomkino, Russia, and it was the little girl who picked up the phone.
The five-year-old revealed that she was the one who had been taking care of her little brother as she said her parents had been "sleeping" for a long time, as reported by The Sun. On the phone, the child also revealed that her father had "turned all black."
The odd conversation with the little girl prompted Alexander's sister Natalia Bakulina to immediately head to the couple's apartment, and the 5-year-old managed to let her aunt in. 36-year-old Natalia hurried inside to find the distressing sight that the two young children were exposed to.
Children, 1 and 5, found alive in home 'three days after parents died in bed' https://t.co/iuNoGgpYOI pic.twitter.com/k9v99xMk2x

— The Mirror (@DailyMirror) October 23, 2020
"I ran in… and saw everything. I fell down and screamed," Natalia said about finding the lifeless bodies of her brother and her sister-in-law, after which she called up the police and emergency. Natalia then dressed up the two children, as reported by the Daily Mail. And after three days of fending for themselves all alone, the young sister and her baby brother were finally out of the apartment.
There was no immediate confirmation on what caused the deaths of Alexander, a gas plant worker, and his wife. However, it is suspected that the couple suffered a severe case of food poisoning.
On the day before the couple's death, Alexander's grandmother had given him a jar of homemade pickles, and this same jar was found open in the couple's kitchen. It is suspected that the botulinum toxin from the pickles might have led to the untimely deaths of the young parents as this toxin can end in paralysis. In the worst-case scenario, the toxin can also lead to respiratory failure and cause death.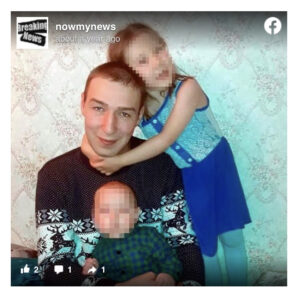 As news of the couple's death came out, a neighbor revealed that Alexander and Viktoria were the "perfect couple," according to The Sun.
"I have only positive feelings about them," said the neighbor, Mikhail Khomchenko. The neighbor also believes that alcohol poisoning cannot be the cause of death for the couple as they don't drink alcohol.
Viktoria's mother, 61-year-old Galina Yasturbenko who is shocked by the devastating turn of events, told news outlet 78.ru, "They said we must bury them in sealed coffins. We are shocked. Nobody knows what happened."
Two young children found in flat with lifeless bodies of their parents who 'died from eating poisoned pickles' https://t.co/qT6y62pHvj

— Daily Mail Online (@MailOnline) October 23, 2020
Currently, it is Alexander's father who is looking after the young girl and her toddler brother.